If you are interested in mounted shooting (like I am) and you have a chance to ride with Outlaw Annie (like I did)…you take it! I was in town for a photo shoot and Annie offered to coach me with my horse that I am introducing to the sport. She also allowed me to ride one of her well trained horses. I had a blast (pun intended) and hope I get to do it again. In the meantime my thumb needs to take up an exercise routine…I can ride faster than my thumb can work! (it is a single action .45)
This isn't my first time riding with Annie Bianco Ellett but it has been a few years and I have more experience now. Annie is a Cowboy Mounted Shooting Association (CMSA) World Champion Cowgirl and Single Action Shooting Society (SASS) Overall World Champion. She is perhaps the most recognized person in all of cowboy mounted shooting and has helped revolutionize the sport.  Annie travels the country competing and offering shooting seminars. Her student following is world wide. Annie's shooting and riding skills have been featured on ESPN, Outdoor Life Network, TNN and Fox Sports Television.
For those of you who are interested in the training, I have been video taping how I am introducing Newt to the sport of mounted shooting. I hope to have that series ready to go sometime in February or March leading up to my appearance at The Road to the Horse where I will also be speaking about the sport of mounted shooting.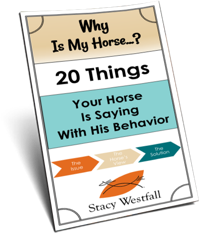 FREE PDF DOWNLOAD
WHY IS MY HORSE...?
No one taught you the skills you need to work through these things.
Riders often encounter self-doubt, fear, anxiety, frustration, and other challenging emotions at the barn. The emotions coursing through your body can add clarity, or can make your cues indistinguishable for your horse.
Learning these skills and begin communicating clearly with your horse.
Click here to learn more.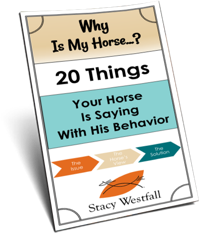 Free PDF Download "Why is my horse...20 things your horse is saying with his behavior"
PDF will be delivered to the email address you enter as will weekly tips from Stacy. Totally free. Unsubscribe anytime.