Stacy,
Ok, I think its funny that I just assumed that you don't answer your own emails and wrote my last one to a third person talking about how you were going to be really hard to reach at RTTH!!! Haha!! Little did I know…but you are a real person and that is why I am a fan! Yay! I will be on the lookout for your booth, thanks for packing some Roxy models…..
This is a copy of the beginning of an email I received. It, like many others, shows that many people think I allow others to sign my name or 'pretend' to be me. Nope. If it is signed by me….I wrote it.
As for the emails and the blogs, etc. I am trying to do what one of my mentors, CS Lewis, did and respond to those who take the time to write. When I read that he wrote to ALL the children and people who wrote to him as the Chronicles of Narnia were published I was impressed. Now, after trying to do the same, I am even more impressed.
I wonder sometimes at the volume of email and letters and secretly (well, not secretly now) wonder if he would have kept up in this digital age. I think he would have tried. So the next time you notice a delay in a post or a comment or an email…remember that while looking at all of this personally is a noble cause…it is also a slow one! 🙂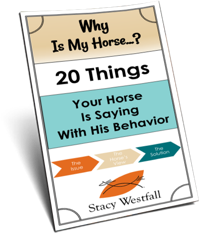 FREE PDF DOWNLOAD
WHY IS MY HORSE...?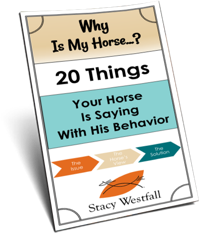 Free PDF Download "Why is my horse...20 things your horse is saying with his behavior"
PDF will be delivered to the email address you enter as will weekly tips from Stacy. Totally free. Unsubscribe anytime.