Check out this great idea: Gelding Clinics to be held to reduce the number of stallions out there. I know that many people want to point fingers at the 'big breeders' but there is also truth in the fact that there are large groups of mixed horses out there in pastures. Mare, foals, stallions etc all living unattended in pasture. Many of the rescues that happen have stallions that are mixed in with the herd. These clinics sound like a great idea to me.
Here is the spring schedule in California:
March 21 – Salinas, CA
March 22 – King City, CA
March 23 – Lodi, CA
March 24 – Auburn, CA
March 26 – Woodland, CA
March 28 – Cottonwood, CA
April 7&8 – Oakdale, CA
April 15 – Ramona, CA
We have additional clinics in the works. Our goals are to assist economically challenged horse owners to castrate their colts/stallions AND to help reduce the future (over)supply of horses. Interested parties can contact us at nationalequine@gmail.com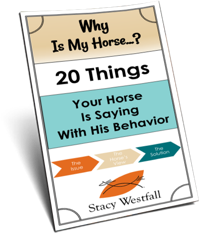 FREE PDF DOWNLOAD
WHY IS MY HORSE...?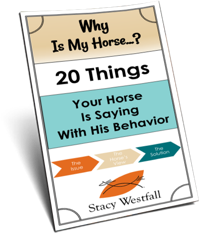 Free PDF Download "Why is my horse...20 things your horse is saying with his behavior"
PDF will be delivered to the email address you enter as will weekly tips from Stacy. Totally free. Unsubscribe anytime.