That's right, I will be presenting talks all three days!
I'm in Arizona right now but I will be in Michigan in March for the International Stallion Exhibition and Trade Show a.k.a. the Michigan Horse Expo. The expo will be held at the Michigan State University Livestock Pavilion in East Lansing, Michigan.
I will be talking about a range of subjects and when I am not in the arena teaching I will be back at my booth answering your questions. I love going to expos because it is a great place to catch up with people and answer their questions. If you can't make it to the expo, feel free to post your question here and I will add it to the list of questions I am working on answering.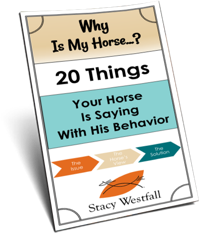 FREE PDF DOWNLOAD
WHY IS MY HORSE...?
No one taught you the skills you need to work through these things.
Riders often encounter self-doubt, fear, anxiety, frustration, and other challenging emotions at the barn. The emotions coursing through your body can add clarity, or can make your cues indistinguishable for your horse.
Learning these skills and begin communicating clearly with your horse.
Click here to learn more.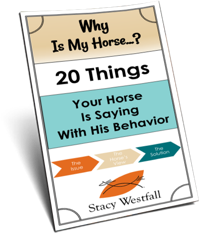 Free PDF Download "Why is my horse...20 things your horse is saying with his behavior"
PDF will be delivered to the email address you enter as will weekly tips from Stacy. Totally free. Unsubscribe anytime.