"Hi Stacy, I am in Australia and I have watched your videos and read some of your posts. I have also heard a lot about you from friends. I was wondering if you have any advice for a horse lover who is terrified of horses. When I was 12 I had an accident and fractured my skull and was in a coma. I was not permitted to get back on for a year. My mum was riding with me and broke her leg saving me. She was in hospital longer than me. We never rode for a long time, which is probably part of the problem. Mum rides sometimes now and is more confident than me. I have had some lessons but circumstances create big gaps between lessons. This means I start over all the time. I can't remember the accident. I can now be near them it shake and feel sick when I lead them or ride them. How can I make this process easier?"-Kate A.
The first thing that popped into my mind was, "Start small, mini small."
Then I read your question again and saw that even leading them causes you stress. I was reminded of how my boys, in a matter of days, dramatically increased in confidence after we got our mini's. The interesting part was that the horses they had always handled were trained better than the minis…but the minis were small, less intimidating and made us laugh.
There are many ways that you could work through this. The biggest red-flag that I see in your question is that you have had circumstances that create big gaps between lessons. It isn't 'wrong' but as you have already identified the lack of consistency will cause you to repeat more than if you were able to be consistent.
I wrote a blog titled, "After an accident I have lost my confidence, what do you suggest?" that discusses a similar topic from a slightly different angle; you are interested in getting confidence around any horse and she was interested in confidence around her specific horse. It is still worth reading as the answer is still what I would recommend to you.
Listen to this advice that was posted as a comment. She sums it up beautifully and offers great advice:
"Your confidence can be and – in my opinion – should be regained! It would be a tragedy if you allowed an adverse incident like this to set a pattern for you of avoiding anything that has scared or hurt you. I know what you're going through, 'cause after the accident (my bicycle vs. pickup truck – bike loses, bigtime!) There's nothing like lying in bed with the "tape" of the accident playing over and over in your head to scare the willies out of you….) I did three months in hospital and over a year in a rehab center! I was lucky; I had been a horse person since I was little and KNEW that when you fall off you get right back on before you get scared and lose something you love. Neither you nor I had that option, but I was riding a bike (nervously!) as soon as they put a knee joint in my cast; my horse (with stirrup removed on the cast side) as soon as I could swing my leg over his back.

If you are in an auto accident will you never ride in a car again? If you fall on your kitchen floor will you never enter that kitchen again? Or even never walk on a linoleum floor again?

Stacy is exactly right in saying that more groundwork and more exposure to strange happenings will lessen the chance of this occurring again with your horse – in whom you have a lot invested and I don't mean money!) You might consider, also, a few sessions with a counselor to help you work on your fear, and a few lessons at the local riding academy on the horses they put the LITTLE kids on. You knew this kind of thing could happen before you started riding in the first place; horses are big, dumb prey animals with a very rapid flight response. You loved them anyway. You still do. Let your love – and your determination to be emotionally healthy! – rule your life.

With sympathy – and tough love, Annie G."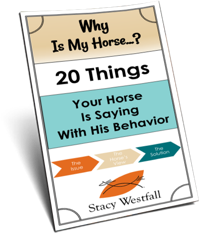 FREE PDF DOWNLOAD
WHY IS MY HORSE...?
No one taught you the skills you need to work through these things.
Riders often encounter self-doubt, fear, anxiety, frustration, and other challenging emotions at the barn. The emotions coursing through your body can add clarity, or can make your cues indistinguishable for your horse.
Learning these skills and begin communicating clearly with your horse.
Click here to learn more.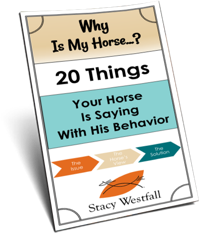 Free PDF Download "Why is my horse...20 things your horse is saying with his behavior"
PDF will be delivered to the email address you enter as will weekly tips from Stacy. Totally free. Unsubscribe anytime.