We had a great time in Fort Worth, Texas last week at the Cowgirl Hall of Fame and Museum. I knew I was in trouble on Wednesday night when I was walking through the museum with my mom…when she would talk to me I would cry…not a good sign when I had to speak in public the next day!
If you want to see a video of me speaking/crying you can visit my facebook page and watch it there. I am not tech savvy enough to post it here 🙁
Here is a photo of the 2012 Cowgirl Hall of Fame inductees: Sunny Hale, Stacy Westfall, Mildred Farris and Barbra Schulte.
Here is a photo of the medallion they gave us:
Here is a photo of all of the Cowgirl Hall of Fame Honoree's in attendance that day: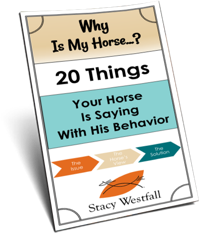 FREE PDF DOWNLOAD
WHY IS MY HORSE...?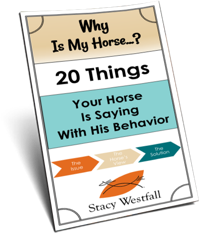 Free PDF Download "Why is my horse...20 things your horse is saying with his behavior"
PDF will be delivered to the email address you enter as will weekly tips from Stacy. Totally free. Unsubscribe anytime.