Today has officially gone to the 'babies'…foals that is. I started my day with a trip to the vet to confirm that my husbands favorite mare was in foal. I'm happy to announce that she is! For us this is exciting news because my husband Jesse excels at matching broodmares and stallions to produce OUTSTANDING horses. He has successfully planned breedings that have resulted in multiple reining champions on all levels. These horses have also been good solid citizens in the equine world. I am thankful that there are people out there like my husband who really have an eye for improving horses both in ability and mental soundness.
I'm also thankful for my husband because he agreed that I CAN GET A BABY! To be more accurate, a FOAL from Last Chance Corral! I'm excited but I have to admit a bit nervous too. 
I have never raised an orphan foal and there is a good chance I will soon have two. I have read the requirement page numerous times and then I made it official by giving them a call and doing my phone interview. It felt like I was back in high school prepping for a test, nerves and all! 
I'm happy to report that I passed my interview. It probably helps that I have had steady contact with them for several years and have pretty good references in the horse world, lol! They are serious about sending in photos of your fencing and facility which I also passed. I have to admit that it makes it easy when you are living in a motor home and can park your 'house' as close to the barn as you want! I think I will move it so my bedroom window lines up with the foal window…is that going too far? It will be like sleeping in the barn but with a few extra luxuries.
This will be a whole new learning curve for me for several reasons, the biggest two being 1) our foals had their moms and 2) we knew their family members as well. Our toughest foal issues before this have been the actual birth and the initial bonding process. With maiden mares this was a bit of a challenge but after that they were pros. This foal won't have a mom….which means I will be mixing a bunch of formula! I have mixed formula when I was visiting Last Chance but I have to admit that this is feeling a little like prepping my house for my first child to come home from the hospital. I have bought my bag of Buckeyes Mares Milk and read those instructions numerous times. I'm also officially stalking the Last Chance website for info and to look at the babies but that's another story:)
 It will also be strange for me to have a foal that is more like a stranger. All of our foals prior to this have been out of mares that we had ridden for years. We knew the mare and most of the time knew the sire pretty well too. The advantage of knowing the sire and dam is that quite often the foal has a familiar feel. With some of our foals it has seemed like I knew what they were going to do before they did! With this new foal…or foals…I won't have any of that knowledge. It's kind of exciting in a different way!
I have always loved training horses to reach their highest personal potential. Sometimes that has been a mini horse learning to be a valuable member of society and other times that has been a reining horse reaching for the top of the game but in each case it was what the horse had for potential. Getting this foal (or foals) will likely involve a life outside of reining…depending on who I pick. And yes, I do keep saying 'foal' or 'foals' as per the Last Chance Corral website. 
If the babies are very young they adopt them out in pairs. Some of the older ones can go as singles. This one fact has probably driven me crazy more than any other. After spending time at Last Chance I can completely see why they go out in pairs. It decreases depression and increases success rates…something they have learned over their years of doing this.
I keep telling myself that I can raise two and then pick one to sell and one to keep…but I'm terrible at selling horses! I always keep them until I find the perfect home. So my big dilemma is picking either an older foal that can go as a single or a pair of younger foals. I have to admit that both have their advantages and disadvantages. I can feel another sleepless night on its way…
Please leave your advice in the comments. I really do read them. Especially on this post when I'm already going to be up stalking (I mean looking at) Last Chances website all night anyway.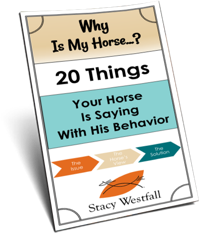 FREE PDF DOWNLOAD
WHY IS MY HORSE...?
No one taught you the skills you need to work through these things.
Riders often encounter self-doubt, fear, anxiety, frustration, and other challenging emotions at the barn. The emotions coursing through your body can add clarity, or can make your cues indistinguishable for your horse.
Learning these skills and begin communicating clearly with your horse.
Click here to learn more.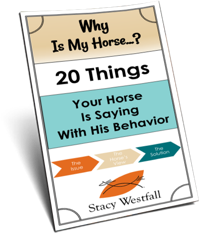 Free PDF Download "Why is my horse...20 things your horse is saying with his behavior"
PDF will be delivered to the email address you enter as will weekly tips from Stacy. Totally free. Unsubscribe anytime.