You have to love horses for there personalities. If you don't love the personality, no matter how much else the horse can do for you, it will be difficult to love the horse. Horses that perform well but don't touch your heart tend to be treated more like objects than animals.
Find places to get to know your horse. Not just physically knowing what he is capable of-I mean really knowing who he is. If the two of you don't click or if you drift apart it could mean a few things.
Maybe you need to spend more time together.
Maybe you need to add something new to your routine.
Maybe you need to consider if you ever have clicked.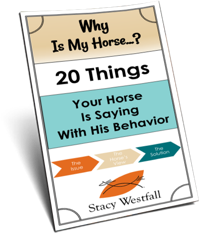 FREE PDF DOWNLOAD
WHY IS MY HORSE...?
No one taught you the skills you need to work through these things.
Riders often encounter self-doubt, fear, anxiety, frustration, and other challenging emotions at the barn. The emotions coursing through your body can add clarity, or can make your cues indistinguishable for your horse.
Learning these skills and begin communicating clearly with your horse.
Click here to learn more.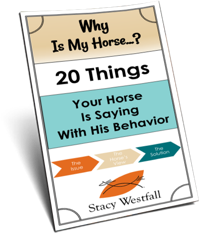 Free PDF Download "Why is my horse...20 things your horse is saying with his behavior"
PDF will be delivered to the email address you enter as will weekly tips from Stacy. Totally free. Unsubscribe anytime.