The only way to have a friend is to be one.-Ralph Waldo Emerson
How does your horse think of you?
Dictator? …. Doormat? ….
Or does he consider you to be a friend?
Before you get too excited about answering friend consider the following pieces that make up friendship:  desire the best for each other, honesty, truth, understanding, compassion, enjoyment of each other's company, trust.
Ouch! That's a lot to expect in a relationship. Do you remember what honesty feels like in a good friendship? It is when you say "Does this look good?" and the answer is "No."
Do you have the freedom with your horse to say 'No' without him throwing a fit? If he says 'No' do you lose your temper? Are you good friends?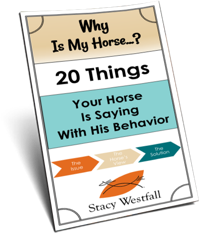 FREE PDF DOWNLOAD
WHY IS MY HORSE...?
No one taught you the skills you need to work through these things.
Riders often encounter self-doubt, fear, anxiety, frustration, and other challenging emotions at the barn. The emotions coursing through your body can add clarity, or can make your cues indistinguishable for your horse.
Learning these skills and begin communicating clearly with your horse.
Click here to learn more.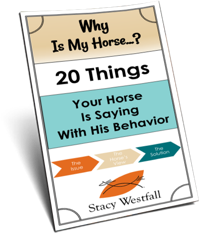 Free PDF Download "Why is my horse...20 things your horse is saying with his behavior"
PDF will be delivered to the email address you enter as will weekly tips from Stacy. Totally free. Unsubscribe anytime.