In one week from today we will pull out of the driveway of this house for the last time. A trailer load of horses and three boys tagging along…
Most of the stuff is packed but not all. One thing I am looking forward to finding, reviewing and then packing are all of the old show photos. I know they are still in the other room waiting for me to carefully store them. Photos of my boys so tiny standing, or being held, in the photos with their parents and their mounts. Horses are woven into all of our photos…family…business…it all blends. I will post some when I find them.
It got me thinking of all the horses we have trained here, right here in this barn and arena. Jac now stands in the stall his mom once did. The same stall Vaquero was last in. And many, many horses that are not so well known have also been trained on this property. These are a few:
Can Can Lena-
Whizards Baby Doll-
Can Can Vaquero-(son of Can Can Lena)
Jac's Electric Whiz- (son of Whizards Baby Doll)
And now Jac had his start here. I am excited for the future but I'm starting to think that last day might be….rough.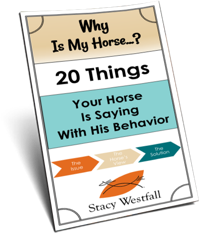 FREE PDF DOWNLOAD
WHY IS MY HORSE...?
No one taught you the skills you need to work through these things.
Riders often encounter self-doubt, fear, anxiety, frustration, and other challenging emotions at the barn. The emotions coursing through your body can add clarity, or can make your cues indistinguishable for your horse.
Learning these skills and begin communicating clearly with your horse.
Click here to learn more.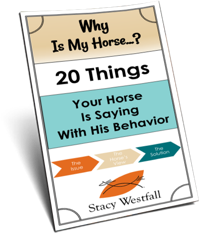 Free PDF Download "Why is my horse...20 things your horse is saying with his behavior"
PDF will be delivered to the email address you enter as will weekly tips from Stacy. Totally free. Unsubscribe anytime.