Breaking Up is Hard to Do….an article I wrote as published in Americas Horse magazine.
By Stacy Westfall
There's no doubt that some of the happiest moments of horse ownership come when you take delivery of that new horse.  It's kind of like infatuation —easy to see all the great things about the new partner, and any negatives or possible problems are easily overlooked.  Expectations are high and as far as potential success goes, the sky's the limit.  You figure you and your new horse will be riding together years in the future, still enjoying a fruitful and fulfilling relationship.
The other end of that spectrum is coming to the conclusion that it might be time to part ways with your horse.  This can happen after years together, or soon after a new purchase.  Either way, the realization is unsettling — and usually for the very reason that the initial expectations were so high.
When someone asks my advice about selling a horse, I like to stick to some general points.  The final decision is a difficult one each individual needs to make on their own.  There are three things I tell them to consider: safety, enjoyment, and purpose.
Safety
When you feel unsafe around your horse, or if your instructor or some other professional is warning you about your safety, take it seriously.  No amount of loyalty to your horse is worth getting hurt.
Behaviors that threaten your safety include biting, kicking, rearing, bucking and striking.  If you can't control your horse, even if someone else can, the horse is still dangerous to you.  You do have options if you consider your horse a safety threat.
Sending your horse to a professional trainer is one possibility.  The downside of this is twofold. #1 a good professional trainer can be expensive.  If you don't have the money to see the training through, it's time to consider selling.  #2-can you maintain what the trainer has done?  Some horses become wise and know the difference between the trainer and the owner. If you can't maintain it, the training will not benefit you.
If you have the ability, time and inclination to train these behaviors out of your horse, it's time to get to work fixing the situation.  Be realistic.  Are you really capable of addressing the dangerous behaviors in your horse?  Are you willing to commit to the time necessary (a minimum of four times per week) to correct the behavior?  Are you willing to be consistent over time (fixing your horse could take weeks, months or more)?  Are you willing to postpone your goals?  For instance, you may have had a goal to do some trail riding or enter a show this summer, and if you switch gears to fix bad behavior, that goal might not be possible.
If you hesitate in answering any of these questions, it's time to consider selling. The area of safety is a serious one. This is one area where it is reasonable to expect your horse to change but if you don't have the time or resources to facilitate this change-sell.
Enjoyment
If you're like me, the reason you spend time with horses is that horses bring you joy.  Why do something so expensive and time-consuming if you don't absolutely love it?  So ask yourself if you're still enjoying your horse.  Do you look forward to riding or do you avoid or dread heading out to the barn?  Have you noticed that you are riding less often, and when you do it's for shorter periods of time?  Does thinking of your horse make you smile, or do you wince?
If any of this sounds like you, it's time to ask yourself why the joy is gone.  Two things can strongly impact your enjoyment with your horse — personality conflicts and energy level.  Look for your enjoyment issues here.
Horses, like people, have distinct personalities.  Some are affectionate and seem to enjoy your attention.  Others are more stand-offish and businesslike.  If you want your horse to LIKE you, to run to you from the pasture and nudge you for a snack, don't get your hopes up if your horse is of the second type.
I once trained a horse that was successful in the reining pen, but the horse and the owner didn't 'click'.  The owner had always had horses that were curious, friendly and loved treats and interactions. Her gelding however, would never eat a treat — not an apple or carrot or any of the expensive horse cookies.  And he was stand-offish. He did his job and then wanted to be left alone.  She always felt something was missing and in the end she chose to sell.  In doing so she was able to find him a home where he was enjoyed for who he was.
Likewise, if what's most important to you is the way you and your horse perform, no matter how cute and attentive it is, if it doesn't live up to your expectations in the arena, you're going to have a hard time really enjoying it. Is it fair to try to change him? Consider your horse's strengths and weaknesses before trying to change him too much.
Mismatched energy levels can also lead to lack of enjoyment.  A forward, excitable horse is going to be a challenge for someone to enjoy whose idea of a nice ride is a meandering walk along a trail.  Rather than relaxing, they're likely to be constantly pulling the horse back, wishing it would just chill out and walk.  On the other hand, a lazy walker that resents moving to a trot can be frustrating to ride when your aim is to lope a pattern.
You get the picture.  Like with certain people, you move at the same speed or you don't, you like the same things or you don't.  If you suspect that the lack of enjoyment you're feeling with your horse is a personality or energy issue, it's time to consider selling.  Those characteristics are innate, and won't be easily changed in either of you.  Not surprisingly, if you are constantly trying to change your horse, for example trying to make a lazy horse become a get-up-and-go horse, your horse is probably not enjoying the relationship much either.
Purpose
What do you want to do with your horse?  Your current horse may have been the perfect match when you first got it.  It's possible, however, that your goals and skills have evolved since then.  The key question is, is your horse suited to you and what you want to do NOW?
Let's say you started out content to ride trails.  The horse you have is perfectly capable of that.  But now you've decided you would like to try to compete in endurance rides.  Your horse, while able to pick its way over rocks, cross creeks and step over logs, may not be up to the demanding pace required to be a successful endurance competitor.  Consider how important it is to you to achieve that next goal.  If your horse is holding you back, you're going to begin to resent it.  Trying to change your horse into something he is not can also make him resentful. Instead, consider selling your horse to someone who can appreciate him for who he is, the way you did when your goals were different.
That retired show horse with some arthritis in his hocks may have been a great choice for your eight-year-old daughter to learn to ride on. Now that she is twelve and has decided to take jumping lessons things have changed. Pushing a horse to do something it's not suited to is a recipe for disaster.  Consider selling such a horse to someone who can use it to its abilities.
While it's rarely easy to end a relationship, sometimes it's the best thing to do. Many horse owners hang onto their horses based on the idea that they are the only ones in the world who will take care of them. There are many responsible horse owners out there, and for one of them, your horse could be that special once-in-a-lifetime partner.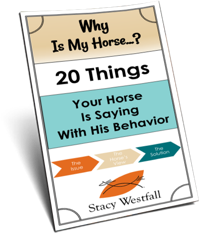 FREE PDF DOWNLOAD
WHY IS MY HORSE...?
No one taught you the skills you need to work through these things.
Riders often encounter self-doubt, fear, anxiety, frustration, and other challenging emotions at the barn. The emotions coursing through your body can add clarity, or can make your cues indistinguishable for your horse.
Learning these skills and begin communicating clearly with your horse.
Click here to learn more.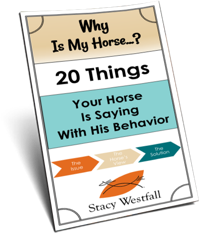 Free PDF Download "Why is my horse...20 things your horse is saying with his behavior"
PDF will be delivered to the email address you enter as will weekly tips from Stacy. Totally free. Unsubscribe anytime.