Blogging is hard. Harder than I thought it would be.
I love to write….but the very thing I love about writing I have had to mostly give up in blogging.
I love being thorough….and blogging doesn't lend it self to that. How do I tell my complete view on a subject in 500 words?
On the flip side…who wants to read a 4,000 word article on a chin strap or some other obscure topic. I might not even want to read it by the time I was done!
And even then someone would have a problem with it.
Because, really deep down that is what I struggle with. People not understanding me.
It hurts.
Notice I didn't say people agreeing with me. You don't have to agree with me.
In fact I really want to make people think. That includes me.
I love feedback like this from Lyn, "It is also thought-provoking. If that was your goal with this blog, you have certainly accomplished it."
Thank you Lyn, and everyone else who is helping me along this journey.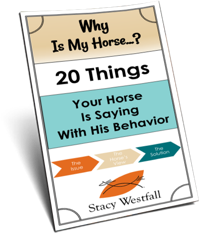 FREE PDF DOWNLOAD
WHY IS MY HORSE...?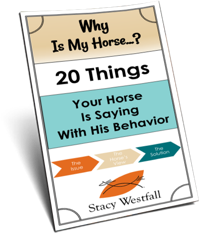 Free PDF Download "Why is my horse...20 things your horse is saying with his behavior"
PDF will be delivered to the email address you enter as will weekly tips from Stacy. Totally free. Unsubscribe anytime.