I would like to look back at Jac's first week of training, one day at a time, ending on Wednesday with Day six (Episode 11)…which hasn't been seen before.
We filmed every day during the first week of Jac's training because so much happens so fast. After week one, we  filmed less often and beginning with Episode 12, you will begin to see the time codes jumping longer periods of time.  Also, beginning November 20th we will be releasing only one episode per week on Wednesdays.
So, were you amazed at how much goes on in those first few days? Can you see when 'seeds' were planted or when questions were asked by both horse and handler?
Episode 1 and Episode 2 were both filmed on Day 1. Watch both episode and then answer the following questions:
Episode 1
How accurate do you think Stacy's evaluation during Episode 1 was, now that you have seen the first ten episodes?
For those of you who have read Stacy's book, Smart Start, where do you think Jac is on the emotional scale?
Can you see how the training is working with his personal nature? Can you see how early Stacy could see the imbalance in Jac's 'on-side' vs 'off-side'?
What other things did Stacy mention during the evaluation that you saw even more clearly after watching the next ten episodes?
Episode 2
We see Jac pawing…what episode is the last one he paws in? Why does he stop pawing?
Do you see the difference between evaluating vs training?
Can you see how focused Stacy is on reading the body language? (Episode 12 will come out on November 20th…and it is all about body language)
What other questions do you see Jac asking now that you can look back over the first ten episodes?
I am excited and honored by the response you have had to watching Jac's training. I can't wait to bring you more!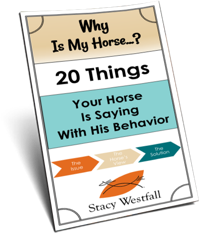 FREE PDF DOWNLOAD
WHY IS MY HORSE...?
No one taught you the skills you need to work through these things.
Riders often encounter self-doubt, fear, anxiety, frustration, and other challenging emotions at the barn. The emotions coursing through your body can add clarity, or can make your cues indistinguishable for your horse.
Learning these skills and begin communicating clearly with your horse.
Click here to learn more.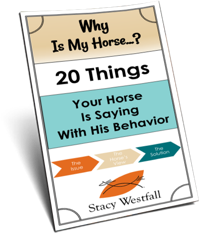 Free PDF Download "Why is my horse...20 things your horse is saying with his behavior"
PDF will be delivered to the email address you enter as will weekly tips from Stacy. Totally free. Unsubscribe anytime.