How I remember Roxy.
As a wobbly legged black foal that I said, "Oh, I bet she'll be a grulla like her grandmother."
As an insecure two year old that while I was riding her around our indoor, the young lady working for us at the time remarked, "Your crazy if you ride that mare outside."
As a four year old when I chose the song, "A moment like this." for our first freestyle because it so beautifully matched this mare.
As a five year old when I was practicing bareback and bridleless and I knew the song "Live Like Your Were Dyin" would be our next song.
And all the everyday things. The "diet hay" that we tried feeding her to keep her weight under control (she was an easy keeper who loved to eat:), the late nights, early mornings, photo shoots and lots of time spent hauling down the road. 
And the unusual things. The trail ride where my mom needed a horse so she rode Roxy (pretty safe choice). Trying to convince Ellen's staff that Ellen should ride Roxy (pretty safe choice) and my joy when she did.
Thanks again Darrell Dodds for sharing this photo with me on Facebook (post info below photo). It was a wonderful walk down memory lane.
My Facebook Post regarding this photo:
This caught me off guard.
I don't know if this happens to you but…
FB changed the way my page shows up when I view it and posts by other people, on my page, disappeared. It was only yesterday when I figured out where they were all going so I scrolled down responding to comments that had been left. Including the following one from June.
As Darrell states below, I had never seen this photo before yesterday. That kind of surprise can really take your breath away. Its like seeing a new photo of an old friend years after their death, bittersweet.
I look like a total goof…but I am:)
And Roxy looks like she expects this behavior of me…because she did…
Thank you for sharing this with the world Darrell. Most remember Roxy for our bareback/bridleless ride…but I remember us like this.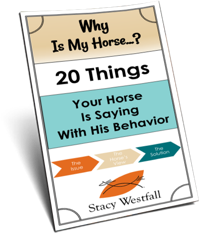 FREE PDF DOWNLOAD
WHY IS MY HORSE...?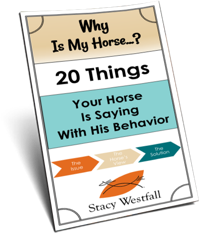 Free PDF Download "Why is my horse...20 things your horse is saying with his behavior"
PDF will be delivered to the email address you enter as will weekly tips from Stacy. Totally free. Unsubscribe anytime.