If you've been following me for very long you may have noticed two things:
First- I kinda disappeared online. 
Second- we've been building a new home.
I think these two phenomenas are tied together.
I love analogies. I use them as often as possible. As I was putting food in the crockpot this morning for tonights dinner I had one of those ah-ha moments.
Does that ever happen to you? In the middle of something mundane a truth about life pops up? 
I love it when it happens to me…but usually those break throughs happen while I'm riding a horse. Not cooking dinner. But hay…I'll take it either way!
Here is what I discovered.
What I want my life to look like….
What my life looks like….
I have so many things up in the air right now that it is making me crazy! 
I love my new cabin and enjoy making it neat and tidy…but keeping it organized with three teenage boys is not happening. My oldest started college today and my other two start tomorrow. As much as I want a clean house I also want to be slightly less than a dictator…so I live in slight chaos. I accept it but somewhere inside I can still feel that it bothers me.
I love my new barn…but the property is taking 4x longer to tame then I thought it would. Our 'fields' were previously farmed. For the first time in my life I sprayed gallons of round up…and the weeds grew stronger! This is my first experience with RoundUp resistant weeds. Not fun. So I quickly changed the plan from fencing it all in to building a few small paddocks. Not my first choice and I'm still figuring out how to battle the weeds. 
I also want to start writing again. I miss my daily interactions with you guys online. I appreciate your comments, suggestions, and thoughts. But I find myself postponing my writing until I have 'something important' or 'I feel more organized' or 'I have something to offer'….
And then I realized, as I was stirring my crock pot this morning…that maybe what I needed to share was that I DON'T have it all together. Just like riding horses, much of success is hidden in showing up daily. The rest will work its way out.
I think this will be a topic I explore in upcoming blogs:)
P.S.-yes, I spelled hey wrong (hay) because it makes me smile…and I am love, love loving the trail riding that I have out my back door! Just last night Jesse and I rode so late that we returned home in the dark and in light rain (not as dangerous as it sounds). I love where I live!!!! Oh, if you're interested in this recipe here is the link I use: http://www.thecomfortofcooking.com/2012/02/crock-pot-chicken-taco-chili.html
Oh, here is the crazy video of riding home in the dark last night. You can see the horses are wet from the rain and you can hear us laughing because the horses both jumped when the video started because the flashlight came on:)   In the video I'm talking to the owner of the horse…this is the kind of updates owners get from me all the time… https://youtu.be/GSk6UKLbook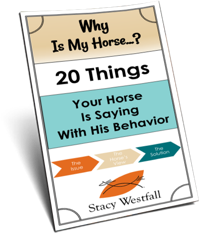 FREE PDF DOWNLOAD
WHY IS MY HORSE...?
No one taught you the skills you need to work through these things.
Riders often encounter self-doubt, fear, anxiety, frustration, and other challenging emotions at the barn. The emotions coursing through your body can add clarity, or can make your cues indistinguishable for your horse.
Learning these skills and begin communicating clearly with your horse.
Click here to learn more.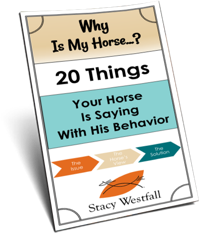 Free PDF Download "Why is my horse...20 things your horse is saying with his behavior"
PDF will be delivered to the email address you enter as will weekly tips from Stacy. Totally free. Unsubscribe anytime.