Sitting in the nose-bleed section of a stadium with 18,000 other people, watching my first professional basketball game (Pacers vs Nets) it occurred to me how much easier professionals make things look.
I watched three basketball games in the stadium that day; a junior high, a high school and a pro. I am not an avid basketball fan, however, our team had the opportunity to play on the big court which was a huge and exciting opportunity for our kids.
The thing that stood out to me was watching the pros…they made it look so easy!
On the technical side I didn't understand why it looked easier but as a professional in my own field I understood the theory; it is the same in all fields including equine.
Pros are smoother, more efficient, can see the whole picture and they have put in the time to get that way.
It was inspirational to watch our kids play on the same court the Pacers played on later that night. It was neat to watch the boys as they studied the pros and admired their talent and ability.
I hope it inspires them to prepare, to work hard, and to master the fundamentals because those attributes will help them succeed no matter what they pursue in life.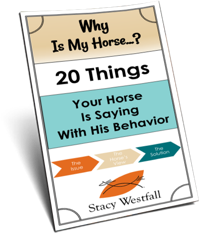 FREE PDF DOWNLOAD
WHY IS MY HORSE...?
No one taught you the skills you need to work through these things.
Riders often encounter self-doubt, fear, anxiety, frustration, and other challenging emotions at the barn. The emotions coursing through your body can add clarity, or can make your cues indistinguishable for your horse.
Learning these skills and begin communicating clearly with your horse.
Click here to learn more.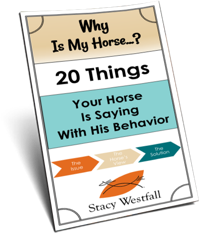 Free PDF Download "Why is my horse...20 things your horse is saying with his behavior"
PDF will be delivered to the email address you enter as will weekly tips from Stacy. Totally free. Unsubscribe anytime.