My husband left today. I blame it on Winter Storm Nika.
He wasn't supposed to leave until Wednesday but this morning he said he wanted to beat the storm, "I want to leave today."
"Today…today? In a few hours?"
"Yes."
Let the frantic trailer loading begin. And the math. How much weight can the truck and trailer safely hold?
Q- Doesn't the tag on the trailer tell us?
A- The tag said 14,500 lbs.
Q- How much does the trailer weigh empty?
A- The trailer weighs around 6,500 lbs empty.
My first lesson was on axle weight. Our six horse trailer has two 7,000 lbs axles. 7,000 lbs x 2= 14, 000 lbs
The tag on the trailer says it carries- 14,500 lbs
This is not a good time for a math mystery. Why is it rated for more than the axles should carry?
A call to the trailer dealer confirmed why my math doesn't add up. The gooseneck of the trailer distributes 25% of the weight onto the truck which is why the tag rates the trailer higher than the straight up math.
Mystery solved. Back to the other math.
The six horses weigh around 6,000…the lean ones balancing out the chubby ones.
In the end the six horses were loaded, the hay, the grain…kids possessions…2 papasan chair…all my Charlie 1 Horse hats (my husband says I have too many…), school books for the end of the year (I kept a months worth)…
"Will this table fit?"
"How about this lamp"
Without a set of scales how am I supposed to hit the magic number?
In the end I threw out the math and relied completely on my husband. He's the math guy anyway….and it is official. He is on the road to Texas with our first load of horses and stuff!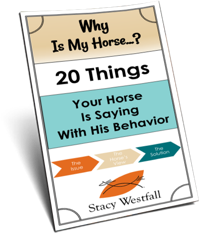 FREE PDF DOWNLOAD
WHY IS MY HORSE...?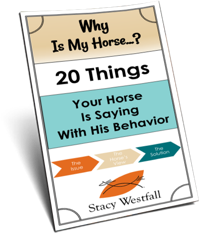 Free PDF Download "Why is my horse...20 things your horse is saying with his behavior"
PDF will be delivered to the email address you enter as will weekly tips from Stacy. Totally free. Unsubscribe anytime.