Here is Presto's world show video entry.
It isn't very fancy in either lighting or in performance.
But that's the point.
When the idea of 'showing' Presto came up…after the initial shock, I began looking at the tests I could choose from.
In the WDAA, the 'Basic' level test 1 includes walk, jog and lope. The horse should move freely forward in a clear steady rhythm, accepting light contact with the bit. Ideally the horse will show relaxation, harmony ride ability and pure gaits.
I could have chosen to ride him in an 'Intro' level test which only require walk and jog but I thought he could handle the lope also.
In the end I'm happy with his ride. By choosing a 'test' that was within his every day riding level I was able to challenge him without stressing him.
The one thing I'm not happy about is the low lighting issue which seems to get worse when I upload. It turns out that my light panels that work so well during the day…also blow out the video. Then when I record at night…it turns out I really should have more lights in the indoor. But who would have guessed I would be showing in my indoor?
At the end of the day the test was about Presto and his training. Even on this grainy video I can see the progress that he has made and I'm very glad I get to say, "We did it!"
————————–
I've owned Presto now for four years. He has grown so much and I'm finally ready to start sharing his adventures. You can find all of his posts on my website (stacywestfall_com_)
What questions do you have for me about Presto?
#PressonRegardless #Presto #Equithrive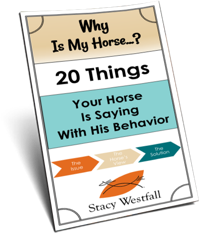 FREE PDF DOWNLOAD
WHY IS MY HORSE...?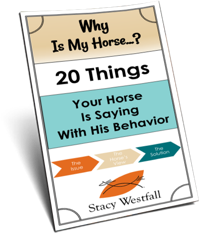 Free PDF Download "Why is my horse...20 things your horse is saying with his behavior"
PDF will be delivered to the email address you enter as will weekly tips from Stacy. Totally free. Unsubscribe anytime.