Horses make things seem possible.
At least that's true for me. If it's true for you…check out this t-shirt design!

A fan of the podcast designed it. It's Presto helping us to remember that something might seem 'Impossible'…but you just have to cross off those first two letters to make it 'possible'.
If your a fan of the podcast and you'd like a chance to win one of these t-shirts, follow the instructions below!
Step 1- Read this post
Step 2- Leave a comment about The Stacy Westfall Horse Podcast
Step 3- Check back tomorrow to see if you've won!
Where to comment:
Leave a thoughtful comment on any of the podcast posts explaining why you enjoyed that particular podcast or the podcast in general.
A thoughtful comment is more than 'hello' and relates to the podcast you are commenting on.
Entering is easy and you have TWO ways to enter!
#1-Leave a comment here on Facebook
#2-Leave a comment below any podcast episode on my website
Winner will be drawn 24 hours from the time of this post (October 15th around 12:30)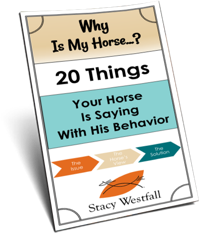 FREE PDF DOWNLOAD
WHY IS MY HORSE...?
No one taught you the skills you need to work through these things.
Riders often encounter self-doubt, fear, anxiety, frustration, and other challenging emotions at the barn. The emotions coursing through your body can add clarity, or can make your cues indistinguishable for your horse.
Learning these skills and begin communicating clearly with your horse.
Click here to learn more.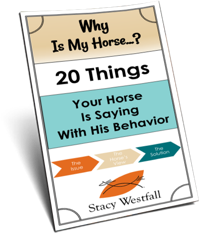 Free PDF Download "Why is my horse...20 things your horse is saying with his behavior"
PDF will be delivered to the email address you enter as will weekly tips from Stacy. Totally free. Unsubscribe anytime.