?The score sheet for Presto's first show arrived! The class placings are still not available but the judge's marks and comments are. You can click each one to enlarge it and the pdf version is available on my website (if you're having trouble reading these).
If you're new to reading the test results, here are a few tips:
A 6 and above is desirable. Here are what the numbers represent:
10-Excellent
9-Very good
8-Good
7-Fairly good
6-Satisfactory
5-Marginal
4-Insufficient
3-Fairly bad
2-Bad
1-Very bad
0-Not performed
The comments can state something that needs to be improved or something they liked, or both.
Some of the movements are 'coefficients', they have a number 2 beside them and you'll notice they were worth double.

I was very pleased to receive sevens! The two places where Presto was below 6 were in the places where he should have shown relaxation and a lowering of his head.
Presto was a bit on edge when we recorded. Even though this first 'horse show' was at home…he was concerned with my husband, the video camera, the new cones, the new railing at the end of the arena, and the strange ride time. I was also acting more 'proper' and sitting up straighter, etc…
All of which made Presto suspicious.
When it was time for the free walk and free jog…I didn't want him to lower his head too much…because he felt like he might startle with all the new things happening.
What I'm saying here is…I agree with what the judges said…and I know why it happened. Which also means I know how to improve it for the future!
I'll be excited to see where we finish in the class. Not that it matters though because the experience has already been a WIN for Presto!
——————–
I've owned Presto now for four years. He has grown so much and I'm finally ready to start sharing his adventures. You can find all of his posts on my website (stacywestfall_com_)
What questions do you have for me about Presto?
#PressonRegardless #Presto #Equithrive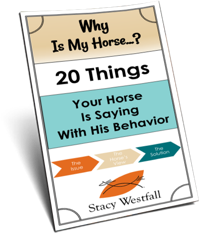 FREE PDF DOWNLOAD
WHY IS MY HORSE...?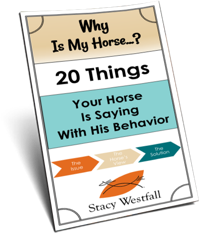 Free PDF Download "Why is my horse...20 things your horse is saying with his behavior"
PDF will be delivered to the email address you enter as will weekly tips from Stacy. Totally free. Unsubscribe anytime.