Years of working is finally paying off! Yes, years. I bought my guns (I bought .45's to pop balloons…lol) in 2009 and have been practicing since. In 2010 I shot of Kernel (from RTTH) and earned wins but not enough to move up. In 2011 I practiced at home all year because Popcorn didn't like the guns. This year he is better with them and we have moved from level 1 to 2 and now from 2 to 3!
To celebrate, and because it was almost 90 degrees, I decided to wear a dress. So glad my custom holsters from Al from Cactus Custom Saddlery match my dresses too!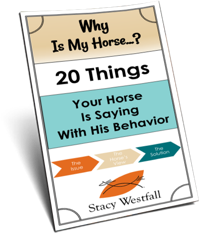 FREE PDF DOWNLOAD
WHY IS MY HORSE...?
Free PDF Download "Where is my horse...?"
20 things your horse is saying with his behavior.