This video is a little long but so cute. My favorite part is at 1:55 I think. I need to show this to my kids when they get home. If my Mom had video taped me on Misty when I was growing up we would have had most of these plus a couple of more. She didn't buck quite this much but was trained to rear on command!
What troubles do you have in your past? Why is it easier to go back and try again when we are kids…but it gets increasingly harder as adults?
Here I am at age 11 riding Misty age 21.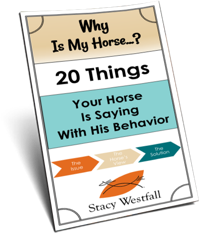 FREE PDF DOWNLOAD
WHY IS MY HORSE...?
No one taught you the skills you need to work through these things.
Riders often encounter self-doubt, fear, anxiety, frustration, and other challenging emotions at the barn. The emotions coursing through your body can add clarity, or can make your cues indistinguishable for your horse.
Learning these skills and begin communicating clearly with your horse.
Click here to learn more.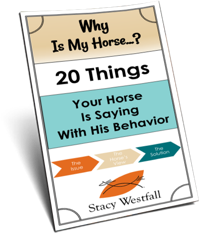 Free PDF Download "Why is my horse...20 things your horse is saying with his behavior"
PDF will be delivered to the email address you enter as will weekly tips from Stacy. Totally free. Unsubscribe anytime.