Here are four questions I received about Episode 14.
"What traits do you look for in the horse you are going to use for a "pony horse" in the round pen?"-Shawn J
"What traits do you look for in the horse you are going to use for a pony horse and do you pony them on trails to expose them to more things?"-Melissa P
"What should you look for in a pony horse?"- Rindy A
"What if you don't have a pony horse to use?"-Tammy C
In this episode I use Popcorn to pony Jac.  To 'pony' a horse means to lead that horse while riding another horse. A pony horse can be a valuable tool. Ponying a horse has many benefits. During colt starting some of the advantages are that I can get a horse, like Jac, comfortable with movements above his head and gain further control of his body. There have also been times where I have ponied a rider during the first ride. Jac was a bit jumpy and unsure and I was able to work through it before mounting up.  Ponying is also useful in many other situations. If a horse has been taught to pony then it can be used for rehab after an injury, increasing fitness, exercising two horses at a time, exposing to new situations,  preparing the horse for the rider being above and more.
Teaching a horse to pony involves getting the horse to listen and respect both you and the horse you are riding. When first leading a horse from another horse, it is common for the horse being lead to be unsure of the situation. The horse being lead often has one of two reactions; timid, concerned about being kicked by the pony horse or pushy, challenging the pony horse. It is the riders job to teach the horse to lead respectfully.
I will only pony from horses that are well trained, that I can ride one handed and maneuver easily. It is important that the horse being ridden will listen to me especially if the other horse gets worked up. The ability to control the pony horses' hips and shoulders determines the safety of all involved. It is extremely important that I am able to control the horse I am riding so I can prevent him from kicking or biting the horse I am leading.  Popcorn is an excellent pony horse because he will allow me to control his body and he is not intimidated by other horses.
Popcorn also has experience and he understands his job. For example, Popcorn knows how to angle his body so that when a horse shoulders into him it doesn't throw him off balance. In the beginning I had tho help him find this position but now I don't have to tell him to be prepared, he knows.
Newt is and example of a horse who is still learning to pony. Newt is already trained well enough, I can completely control his body. I am teaching him how to pony by leading horses that have already been ponied by Popcorn. This means that Newt is gaining experience but he hasn't encountered a really tough case. A tough case would be a horse that was pushing into Newt or a horse that was refusing to come forward. By ponying horses that are easy Newt has gained an understanding and then I begin to pony horses that are a greener or are pushy. I can help Newt because I can control his body but it is nice when they have lots of experience like Popcorn. I will gradually lead more challenging horses and Newt will learn how to be prepared.
If you have watched the whole Jac series you should notice that I like to use lots of steps in my training process. Having said all of this, it is possible to train without a pony horse. There have been times where I didn't have a good pony horse available. During those times I try to figure out how I can achieve the same end result. For example, if I sit high on a fence I can get above the horses head. Or I can spend more time swinging something that would go higher than his head like the stick n string with bags on it. Having a pony horse isn't required but it often makes my job easier.
Below are several episodes where I used ponying as a tool.
This video shows ponying a colt and it's the first time I pony Jac from Popcorn.
This video shows using a quiet horse in a situation where the other horse is likely to react. This video shows Newt ponying Jac.
This video shows Popcorn ponying Al, an of the track Thoroughbred, on the trail for the first time.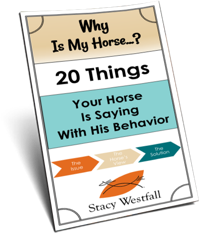 FREE PDF DOWNLOAD
WHY IS MY HORSE...?
No one taught you the skills you need to work through these things.
Riders often encounter self-doubt, fear, anxiety, frustration, and other challenging emotions at the barn. The emotions coursing through your body can add clarity, or can make your cues indistinguishable for your horse.
Learning these skills and begin communicating clearly with your horse.
Click here to learn more.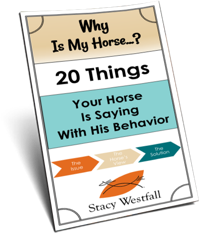 Free PDF Download "Why is my horse...20 things your horse is saying with his behavior"
PDF will be delivered to the email address you enter as will weekly tips from Stacy. Totally free. Unsubscribe anytime.