I'm up here in Maine visiting my family and I find it funny that my old horse Scrapper knows how to open latches. It's pretty harmless in Scrappers situation because the door he opens leads to the pasture. Scrapper got me thinking about horses that escape and I remembered these videos…have you seen them?
I'm not sure which horse wins the 'best horse escape' award….I'm leaning towards video #2 because of the 'risk' factor, but the horse from video #1 has mastered more…what do you think?
What is the toughest latch your horse has opened?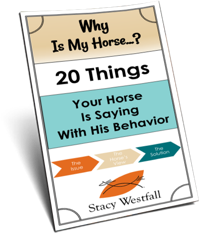 FREE PDF DOWNLOAD
WHY IS MY HORSE...?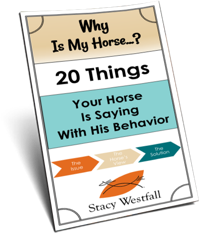 Free PDF Download "Why is my horse...20 things your horse is saying with his behavior"
PDF will be delivered to the email address you enter as will weekly tips from Stacy. Totally free. Unsubscribe anytime.