Dedicated time together, with your spouse or with your horse, how do you measure if it is a deposit or a withdrawal? I am concerned that I have been unclear in my description of deposits and withdrawals. I have loved all of the comments and the discussions though, so I cannot say that I regret my lack of detail as it has left more room for everyone to expand.
Can we all agree relationships grow? Here is a copy of our engagement photo. Jesse and I have grown and changed both physically, mentally and relationally in the time that has passed. In the early days of dating we spent large amounts of time together learning a lot about each other. Lots of deposits.
I have to also admit that over the years there have been times that with kids, work, etc that we have made lots of withdrawals. Often times we were not aware that we were doing this until we were both snappy and frustrated.
The nice thing about having been married for 15 years now is that deposits don't always look like as much work as they have at other stages. For example we just dedicated three days to each other by leaving the kids with grandma and staying in a nice B&B. We didn't have a heavy agenda of therapy work or anything, mostly just time to hang out together and dream.
So in a way that part may seem to fit the 'zen' comment made by Lance, although I am suggesting that I look at this time as a deposit. I also agree with Brian's comment, " just being with them, but at the same time they need to stay out of my space and respect me being there, their leader, this is the best of both worlds, quiet time with my horses yet still banking training."
I do not believe that deposits always look like straight up work or that all fun is a withdrawal. Maybe it is the attitude and focus of both parties that is more indicative of the deposit or withdrawal status.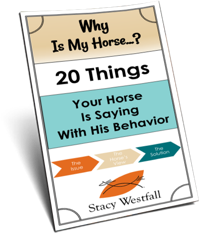 FREE PDF DOWNLOAD
WHY IS MY HORSE...?
No one taught you the skills you need to work through these things.
Riders often encounter self-doubt, fear, anxiety, frustration, and other challenging emotions at the barn. The emotions coursing through your body can add clarity, or can make your cues indistinguishable for your horse.
Learning these skills and begin communicating clearly with your horse.
Click here to learn more.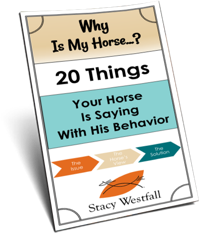 Free PDF Download "Why is my horse...20 things your horse is saying with his behavior"
PDF will be delivered to the email address you enter as will weekly tips from Stacy. Totally free. Unsubscribe anytime.