Presto and Justice…
❓How would they respond when they met again?
??They spent the first 5 months of life together…then were separated for a year and a half.
?Here is the video answer!
And I'm just sayin'…it wasn't all❤️❤️❤️
—–
I've owned Presto now for four years. He has grown so much and I'm finally ready to start sharing his adventures. You can find the last eleven post all in one place on my website, stacywestfall.com.
What questions do you have for me?
#PressonRegardless #Presto #Equithrive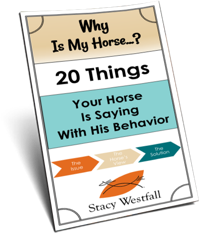 FREE PDF DOWNLOAD
WHY IS MY HORSE...?
No one taught you the skills you need to work through these things.
Riders often encounter self-doubt, fear, anxiety, frustration, and other challenging emotions at the barn. The emotions coursing through your body can add clarity, or can make your cues indistinguishable for your horse.
Learning these skills and begin communicating clearly with your horse.
Click here to learn more.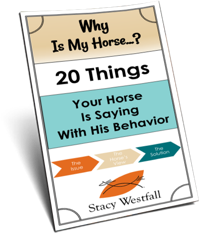 Free PDF Download "Why is my horse...20 things your horse is saying with his behavior"
PDF will be delivered to the email address you enter as will weekly tips from Stacy. Totally free. Unsubscribe anytime.