Here is a video I made the day we picked up Presto and Justice back in 2016. ?I'll post updated photos of both below. ❤️❤️
Interesting things to watch for:
☑️The first foal I touch in the video is Presto.
☑️The first foal I zoom in on is Justice.
☑️The lady in pink is Victoria Goss, founder of Last Chance Corral.
☑️Justice is the foal we are discussing.
☑️I'm shown filling out paperwork for adoption.
☑️Presto is shown walking toward me…can you see how his recent sickness has made him sluggish?
☑️At this point, Presto is older, but Justice is bigger and healthier.
☑️Foals are shown being moved without halters because they are not trained yet.
❤️??❤️Can you see that they stick together?
———————
I've owned Presto now for four years. He has grown so much and I'm finally ready to start sharing his adventures
What questions do you have for me?
#PressonRegardless #Presto #Equithrive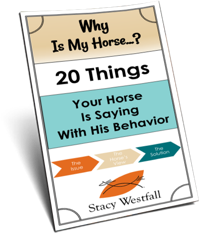 FREE PDF DOWNLOAD
WHY IS MY HORSE...?
No one taught you the skills you need to work through these things.
Riders often encounter self-doubt, fear, anxiety, frustration, and other challenging emotions at the barn. The emotions coursing through your body can add clarity, or can make your cues indistinguishable for your horse.
Learning these skills and begin communicating clearly with your horse.
Click here to learn more.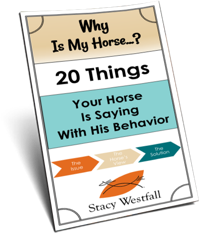 Free PDF Download "Why is my horse...20 things your horse is saying with his behavior"
PDF will be delivered to the email address you enter as will weekly tips from Stacy. Totally free. Unsubscribe anytime.