This is Newt's TV debut. Notice how he is trying to sneak closer to the camera. Maybe he was trying to get across the idea that he was going to be at Jeffer's tomorrow too during the Weaver Leather Pop Up Clinic.
Photobomb the video? Videobomb?
Yes, Newt will be at the demo too.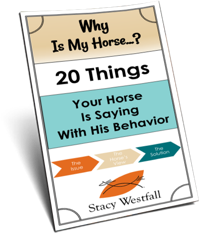 FREE PDF DOWNLOAD
WHY IS MY HORSE...?
Free PDF Download "Where is my horse...?"
20 things your horse is saying with his behavior.