I guess everybody is unique. I love, and benefit from, chiropractic and massage work done on my own body. My husband thinks both are just O.K.
I have seen horses that have had both of these responses; some seeming indifferent and others who had dramatic improvement in performance.
So here are my questions: Have you ever taken a massage therapy course for horses? If you use an equine massage therapist: do you know where they were certified?
I realize that a two day weekend course won't be as intensive as a two year course but I am thinking of looking for a short course to take. Newt and I had a talk the other day (actually I was doing some YouTube massage techniques on him) and he agreed I should take a course. He liked what I did but wanted more.
A quick google search came up with Equissage, The Masterson Method, as well as several schools that vary in length from a few weeks to a few years. Does anyone know about these programs?
———–FOLLOW UP————-May 10, 2016
I just finished reading your inquiry about equine massage course recommendations and the 47 comments from last year in 2015. I am wondering if you ever pursued this further and if so, what school you decided on or would consider. It has been a challenge sifting through the various curriculums offered and am trying to make a final decision.

Thank you in advance for your response! -Dale G.
Dale,
I ordered the DVD from Mastersons program and added some of their work into my daily routine. I would like to take a hands on course but haven't made the time for it.
I will be using it only for the horses in my barn (not as a business) so I think I will keep picking up bits here and there. I had one of my horse worked on by a pro at a horse expo and added a couple of the things I saw done there also.
If you're looking into it, I hope you found the comments helpful! Let me know what you decide & if you like it…I love learning!
-Stacy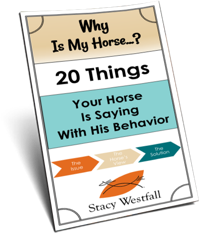 FREE PDF DOWNLOAD
WHY IS MY HORSE...?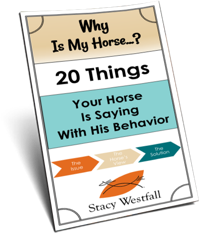 Free PDF Download "Why is my horse...20 things your horse is saying with his behavior"
PDF will be delivered to the email address you enter as will weekly tips from Stacy. Totally free. Unsubscribe anytime.