I went all in on the 'No Stirrups November' theme with Willow and decided to to do No Saddle November…which turned into 'Naked Horse November'.
Let me explain. I started by committing to ride Willow bareback the entire month. She has been ridden bareback before, but it had been awhile.
I've been working on riding her bridleless, so during my first few bareback rides I notice she was overly sensitive. I committed to simply riding her bareback for the first half of the month to give her a chance to adjust.
NOTICE: I gave myself restrictions. I didn't say 'as soon as she relaxes', I actually wanted her to go beyond that…and I didn't want to question myself every ride. So I decided to reevaluate after 10-12 more rides.
Yesterday I reevaluated and based on what I've been observing I decided to do Willows first bareback and bridleless ride. No neck rope, nothing, except horse and rider.
It was a 20 minute ride in total. Twelve minutes warming up with the bridle on but the reins loose, then I pulled the bridle off. I've edited that eight minutes down to a highlight reel for you.
This little horse 🥰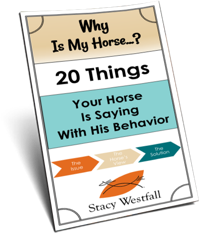 FREE PDF DOWNLOAD
WHY IS MY HORSE...?
No one taught you the skills you need to work through these things.
Riders often encounter self-doubt, fear, anxiety, frustration, and other challenging emotions at the barn. The emotions coursing through your body can add clarity, or can make your cues indistinguishable for your horse.
Learning these skills and begin communicating clearly with your horse.
Click here to learn more.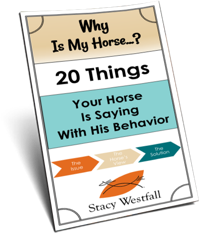 Free PDF Download "Why is my horse...20 things your horse is saying with his behavior"
PDF will be delivered to the email address you enter as will weekly tips from Stacy. Totally free. Unsubscribe anytime.