"Hey Stacy!

I have a coming 8 year old QH gelding who can no longer be ridden. He was my amateur ranch versatility reserve champion ride. Unfortunately, due to a fall he took as a 3 year old, he now has calcification pinching a nerve in his hip, causing him to be extremely uncomfortable and buck when there is any weight on his back. As his only clinical sign is bucking and he looks perfectly sound while being lunged, vets have advised against trying injections, and the equine hospital won't do surgery on this particular area. He is pasture and groundwork sound, and is the most bombproof horse I've ever seen in my life. The world championship blacksmith association has been using him for certifications and contests, and local 4-h groups have used him for ground work and grooming demos.

I am just looking for things to keep his brain active. He is bored, and a bored 8 year old gelding is a naughty gelding. I have taught him to bow, and have been working on liberty with him. Due to his hip I want to stay away from teaching him to lay down.

I was hoping you had some other ideas of things I could teach/do with him. He will be with me for the rest of his life, but he needs to be useful!

Thank you!!" Dana G
Dana,
It sounds like you've got the issue figured out which has to be both disappointing and a relief. The mystery lameness is one of the toughest things.
My first thought if I were in your situation would be to head down the road of liberty training. He sounds like the perfect candidate!
There are now two organizations that I know of that you could look at.
[https://www.libertyhorseassociation.com]
[https://www.thehorseagilityclub.com]
(If anyone knows of more please post the links in the comments below)
Liberty work can be so detailed and creative that the possibilities are almost endless. If you want to get more creative about the liberty work you are doing I would suggest looking at the sites listed above. There are so many options inside of liberty groundwork!
You mentioned that you had shown him and both of these organizations also offer showing. Of course you can also do the training for the simple pleasure of building your relationship but as you mentioned, "He was my amateur ranch versatility reserve champion ride…" I suspect you might enjoy the the showing aspect of it.
Even if you don't show, these organizations are helpful because you can see examples of different expectations at different levels. For example, the Liberty Horse Association has classes where the horses still have halters and lead ropes…all the way up to obstacles and very advanced detailed work.
Liberty work can also include riding one horse (with full tack) and 'leading' or doing liberty work with the unridden horse. You can see an example of this in this photo of my husband, Jesse. He is shown here riding one horse (bridleless) while working another horse at liberty (unridden).
Of course, another option would be to go down the road of trick training…maybe teach him the alphabet? Or how to answer questions with a yes and a no…
Inside of both of these options, liberty and trick training, you also have the option of exploring clicker training/positive reinforcement and other creative methods.
It's amazing to think that when one BIG area, like riding, is no longer an option…there are still so many possibilities!
Ride (and do liberty work) with Faith,
Stacy Westfall
I posted this on Facebook and there are many wonderful comments. The leading one that I didn't address here is the question, "Can he drive/pull a cart."
Here is a link to the post: https://www.facebook.com/permalink.php?story_fbid=257505342411998&id=100044576013064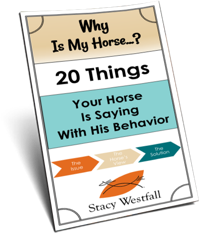 FREE PDF DOWNLOAD
WHY IS MY HORSE...?
No one taught you the skills you need to work through these things.
Riders often encounter self-doubt, fear, anxiety, frustration, and other challenging emotions at the barn. The emotions coursing through your body can add clarity, or can make your cues indistinguishable for your horse.
Learning these skills and begin communicating clearly with your horse.
Click here to learn more.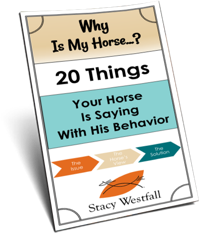 Free PDF Download "Why is my horse...20 things your horse is saying with his behavior"
PDF will be delivered to the email address you enter as will weekly tips from Stacy. Totally free. Unsubscribe anytime.