Update: I recently met Endo the Blind and received an email from someone seeking more information on this subject. Please click on Endo's photo to learn more about his amazing story and inspirational owner, Morgan.
I'm also adding a question and my response below this original text.
———————————–
Last summer while at a horse show a friend noticed her horse's eye was tearing and slightly swollen. It appeared that he had either bumped himself or gotten something in his eye such as hay or sawdust. Several of us looked at the horse, who was otherwise comfortable, and agreed it didn't appear to be out of the ordinary. The horse quickly recovered and the incident was almost forgotten, until two months later. This time it was the other eye. Again, only slightly but this time a vet was called because the horse didn't have a history of being clumsy and it seemed a little odd that this was happening again.
The vet thoroughly examined the eye for any scratched or other physical causes but upon finding none explained that it could be uveitis. He left instructions for treatment, including ointments and an anti-inflammatory, and also gave an assignment; document everything you notice. Part of the diagnosis process is the reoccurring part. If it didn't reoccur then even the second flare-up would be written off as an undiagnosed irritation of the eye. Unfortunately it did happen again. The vet was again called and the horse is now scheduled for a trip to a vet who specializes in treating equine recurrent uveitis.
I have found articles on moon blindness that outline how long the disease has been around (4,500 years, it is one of the earliest documented issues in horses) as well as past and current theories on the causes including; heredity, damp stables, bad feed, and marshy pastures, worms, bacteria, diet, viral infections, injury and stress.
When issues like this happen to a horse you know well it becomes even more personal because it is easier to rule out many of the possible causes. There is no family history, the diet has been checked by analysis, the horse is regularly dewormed and seen by vets, there has been no major trauma and the flare ups have no consistency. The first one happened at a show but another happened during the downtime of winter. Everything has been documented but now she must wait for the final verdict from the specialist.
Have you ever dealt with uveitis in horses? What were the symptoms, the treatments, and the outcome?
---
Question: "Hello Stacy, I live in Barcelona and would love to one day learn more about your training methods. On your blog, there's a great Uveitis conversation, and I posted a question, but see it is still pending review.
Not sure if the conversation still comes up, or if you might have more insight, but I by miracle of miracles, just had my second horse diagnosed with uveitis, months apart and I'm totally baffled at how statistically this could be possible – to happen to once person so soon! I'm almost certain it's something I've been feeding – but any further conversation would really help ease my heart right now as well. I'm sure you are tremendously busy, but would really appreciate any more recent insights that might have been discovered. Thanks so much!" Lea
Answer:
Lea, A very good friend of mine struggled with this with her horse so I learned a lot, hands-on, from helping her.
One thing that we learned from a specialist in Kentucky was that about 80% of the cases are caused  Leptospira.
"In North America, Leptospira interrogansserovar pomona(L. pomona) is the primary pathogen reported to cause leptospirosis in horses. Leptospirosis has been linked to Equine Recurrent Uveitis (ERU) and can also cause abortion and other sporadic health issues."
From what I understand, it is often transmitted through water.
"Leptospira are typically considered to be enzootic diseases with reservoirs in skunks, foxes, rodents, livestock, and ducks. The organism is present in the urine of these animals, and humans are infected through direct contact or via contaminated water."
So it is actually very possible that one person could experience more than one episode with this.
I hope that my info helps you continue your research! Things might be different in Barcelona.
Ride with Faith,
Stacy Westfall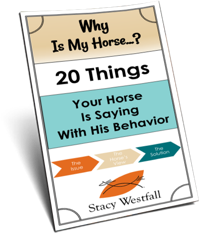 FREE PDF DOWNLOAD
WHY IS MY HORSE...?
No one taught you the skills you need to work through these things.
Riders often encounter self-doubt, fear, anxiety, frustration, and other challenging emotions at the barn. The emotions coursing through your body can add clarity, or can make your cues indistinguishable for your horse.
Learning these skills and begin communicating clearly with your horse.
Click here to learn more.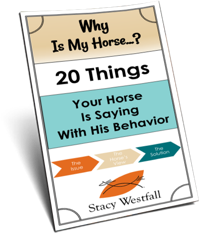 Free PDF Download "Why is my horse...20 things your horse is saying with his behavior"
PDF will be delivered to the email address you enter as will weekly tips from Stacy. Totally free. Unsubscribe anytime.