Yesterday I showed a video (Popcorn the bouncer) of how Popcorn thinks it is his job to keep the peace in the pasture. Today this is a video of Popcorn very worried about the other horses and a little mad a me for keeping him from doing his self appointed 'job'. A few things to notice here.
The first thing to notice is safety. I am allowing Popcorn to express himself so anyone watching the video can better 'see' what his body language is saying. If I had not been interested in this I would not have had the iPhone in one hand and I would have made myself the one in charge. How? Popcorn knows me well enough that I could have just gotten more serious and that would have changed him. I chose to step out of his space (that is why I am on the other side of the fence) so he would show his thoughts the way horses do…with their body language. Did you hear the snorting? See the head tossing? The striking at the gate and the flared nostrils. Also notice I was able to handle him safely even coming through a gate all with one hand even though he was very upset.
Now notice something else. Even though Popcorn was upset about me keeping him separate and allowing the other two to meet did you notice a change in him when he was allowed out with them? No more bouncer!
Now that is interesting that I was able to influence his pasture behavior…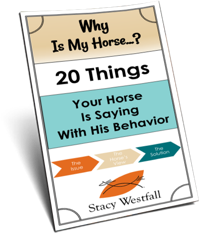 FREE PDF DOWNLOAD
WHY IS MY HORSE...?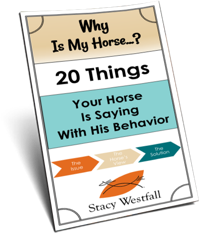 Free PDF Download "Why is my horse...20 things your horse is saying with his behavior"
PDF will be delivered to the email address you enter as will weekly tips from Stacy. Totally free. Unsubscribe anytime.