This is a great follow up to the September 27th post where we talked about falling off.
This song represents both things I have done with my horses and in my life. A great example would be when I decided to climb on a horse when I knew I was having trouble (but I was in a rush).
Has that ever happened to you "this aint the first time I've ignored that little voice telling me don't go there." That's gotten me hurt more than once!
Unfortunately I have also lived this line in the song, 'I bet there's a lesson in there somewhere!….but I don't feel like learning today…"
And you know what you get then? Another chance, and another chance, and another chance until you learn that lesson. What lessons are you repeating right now in your life? With your horses?
Isn't that song the truth, thanks to Templeton Thompson and Sam Gay for providing this.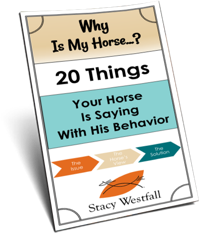 FREE PDF DOWNLOAD
WHY IS MY HORSE...?
No one taught you the skills you need to work through these things.
Riders often encounter self-doubt, fear, anxiety, frustration, and other challenging emotions at the barn. The emotions coursing through your body can add clarity, or can make your cues indistinguishable for your horse.
Learning these skills and begin communicating clearly with your horse.
Click here to learn more.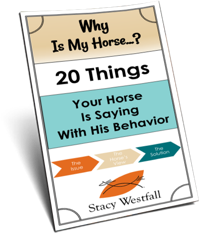 Free PDF Download "Why is my horse...20 things your horse is saying with his behavior"
PDF will be delivered to the email address you enter as will weekly tips from Stacy. Totally free. Unsubscribe anytime.