Life Law #2-You create your own experience.
Strategy: Acknowledge and accept accountability for your life.
This is an interesting thought when applied to horses. I see too many people who don't accept accountability for what their horses are doing. They seem surprised by the horses behavior. In some cases I can understand this because if you are new to horses there is a lot to learn, but that is where you begin to create you own experience. People either take the 'dream' of a horse and put legs on it (work) or they don't…and either way they create their own experience.
I think this happens in all areas of life. I have seen several marriages struggle but again how much work has been put in? How many marriage books read together or what ever continuing learning they choose but something. These things don't just happen-you create your experience.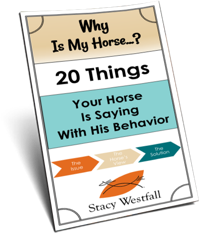 FREE PDF DOWNLOAD
WHY IS MY HORSE...?
No one taught you the skills you need to work through these things.
Riders often encounter self-doubt, fear, anxiety, frustration, and other challenging emotions at the barn. The emotions coursing through your body can add clarity, or can make your cues indistinguishable for your horse.
Learning these skills and begin communicating clearly with your horse.
Click here to learn more.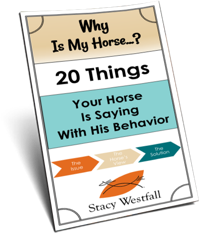 Free PDF Download "Why is my horse...20 things your horse is saying with his behavior"
PDF will be delivered to the email address you enter as will weekly tips from Stacy. Totally free. Unsubscribe anytime.