I was cleaning out a cupboard and found a Dr. Phil audio book case. I love audio books! Anyway, inside the case I found a bookmark size list that went along with the audio book.
I liked them so much that I taped them up in our master bathroom. If I had only realized years ago how much time I would spend reading while brushing my teeth years ago!
Anyway, so I read them as I brush. Jesse liked them too and suggested that I share them with you. So here goes, the 'TEN LAWS OF LIFE' courtesy of Dr Phil.
Life Law #1: You either get it or you don't.
Strategy:Become one of those who gets it.
About three days before I rediscovered this bookmark Jesse attended a funeral. Funerals are one of those times when you meet up with people that you often haven't seen in years. When he came home he commented on how interesting it was that some people seem to have matured over the years while others…..well, they haven't. I think Law #1 explains this phenomenon.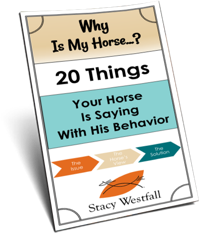 FREE PDF DOWNLOAD
WHY IS MY HORSE...?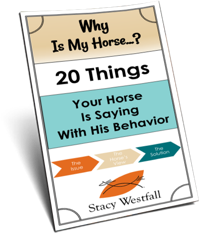 Free PDF Download "Why is my horse...20 things your horse is saying with his behavior"
PDF will be delivered to the email address you enter as will weekly tips from Stacy. Totally free. Unsubscribe anytime.