Fear is something that most of us have to deal with at some point when it comes to horses. It can range from a small, nagging fear that drains your joy to an almost overwhelming, crippling fear that prevents you from moving forward.
For me age and kids increased my concerns of how quickly I would recover from injury and judging by the questions that I get that may be true for others as well.
When Heidi asked if she could interview me for this book I said, "Yes!"
Fear is not something we should hide but instead look at and discuss. When I feel fear, horses or not, I try to stop and think about what 'fear' is trying to tell me. Is it a warning that I haven't been complete? Is it a warning that I should get some advice from someone with more knowledge? Is it related to something going on in another area of my life?
I was able to read much of this book before it was published (a benifit of contributing to it:) and would recommend it for anyone with fear issues or as a gift to someone who is dealing with fear. This link should take you to an Amazon site where you can read more or order.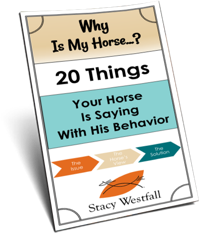 FREE PDF DOWNLOAD
WHY IS MY HORSE...?
No one taught you the skills you need to work through these things.
Riders often encounter self-doubt, fear, anxiety, frustration, and other challenging emotions at the barn. The emotions coursing through your body can add clarity, or can make your cues indistinguishable for your horse.
Learning these skills and begin communicating clearly with your horse.
Click here to learn more.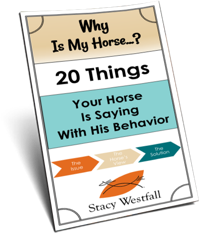 Free PDF Download "Why is my horse...20 things your horse is saying with his behavior"
PDF will be delivered to the email address you enter as will weekly tips from Stacy. Totally free. Unsubscribe anytime.