"PREACH THE GOSPEL ALWAYS——-IF NECESSARY USE WORDS"
As soon as I heard this a few years ago I knew it was my motto. I want my life to speak more for me than I need to speak in words. I wasn't always a Christian and I remember being slightly offended by some that came across as pushy.
I was in my 20's before anyone explained Gods plan of salvation through Jesus Christ to me. That doesn't mean that I had never heard the name Jesus Christ…but it was not spoken in reverence when I heard it, if you know what I mean.
In fact I was in my 20's before anyone ever explained to me about sin and the role that Jesus Christ played in dying as a sacrifice to make me acceptable. Acceptable? Yep, pure enough, clean enough…
Anyway, yes, I consider myself a Christian.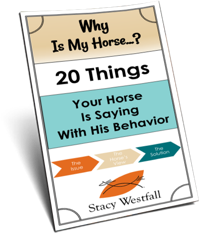 FREE PDF DOWNLOAD
WHY IS MY HORSE...?
No one taught you the skills you need to work through these things.
Riders often encounter self-doubt, fear, anxiety, frustration, and other challenging emotions at the barn. The emotions coursing through your body can add clarity, or can make your cues indistinguishable for your horse.
Learning these skills and begin communicating clearly with your horse.
Click here to learn more.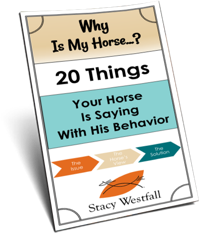 Free PDF Download "Why is my horse...20 things your horse is saying with his behavior"
PDF will be delivered to the email address you enter as will weekly tips from Stacy. Totally free. Unsubscribe anytime.