Does this sound like you or someone you know?
You dream about having a career you love but your passion is horses…and everyone tells you it isn't possible to make a living doing that. You're almost ready to give up, but hold on, I've got good news for you. It is possible. I've done it and I know lots of others who have too.
Right now you probably have fears. You're afraid if you don't try now you may never give it a shot. You've read about people who look back and wish they had 'gone for it.' 
Nothing is more painful than regret. 
Ask yourself this? What if you try?…or worse…What if you don't? 
It is one thing to pursue something and then change your mind but if you don't pursue it at all…you will always wonder. What if…
I remember longing to spend my days with horses. I grew up in Maine, not exactly horse country. I don't come from a ranching or farming background. My mom loved horses and so did I. I knew nothing about the horse industry outside of watching the Kentucky Derby on TV. In high school, when asked, I said I was going to become an accountant. It wasn't a dream of mine. It was a job I thought would pay the bills. Thankfully a high school teacher challenged me. He asked me what I really wanted (my answer had been flat) and I easily answered, "I want to ride horses." He required me to look into it…and as they say…the rest is history. 
And it isn't just me. Molly dreamed of working with horses. Her first job as a groom at a racetrack didn't pan out…but now she manages multi-million dollar equine companies. She is surrounded by horse products and horse people day in and day out. Travis knew he wanted to work with horses and set his own hours. He pursued a career as a farrier. Rachel's parents are both veterinarians but pursued a different path; horse rescue & adoption.
The American Horse Council reports: The horse industry contributes approximately $39 billion in direct economic impact to the U.S. economy, and supports 1.4 million jobs on a full-time basis. When indirect and induced spending are included, the industry's economic impact reaches $102 billion. 
There is room for you. 
Imagine how it will feel when you know the options. Imagine having the chance to ask experts the questions you have, to learn from their struggles and their advice.
Imagine the confidence you will have when you can say you made an educated decision.
At the Equine Career Conference you will have the chance to learn from equine professionals on a variety of subjects including; what jobs are out there, trainer vs non-trainer career paths, college degrees vs apprenticeships/internships, money challenges when getting started,, when to move on or call it quits….and much more.
AND we will study you…thats right. You'll receive valuable feedback about your own strengths and challenges by completing an online personality profile! Then hear how pros use these tools to build stronger businesses.
Question: Do you know the difference between a dream and a goal?
Answer: Having a plan. 
Don't let your dream slip by. Stop and make a decision. Let us educate you so you can make a decision you'll be confident in. 
If this sounds like you, click below, to register for the Equine Career Conference. 
If this sounds like someone you know, please forward it to them.
https://stacywestfall.com/equine-career-conference-2017/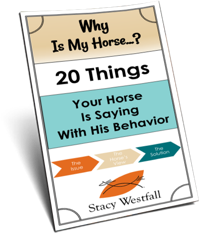 FREE PDF DOWNLOAD
WHY IS MY HORSE...?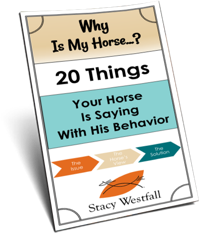 Free PDF Download "Why is my horse...20 things your horse is saying with his behavior"
PDF will be delivered to the email address you enter as will weekly tips from Stacy. Totally free. Unsubscribe anytime.