My husband has perfect timing.
As we drove home from Kentucky with an empty horse trailer he reminded me that we still have Vaquero with us in a way. Standing in our pasture are some reminders of him. You see Vaquero's mom was Can Can Lena who was out of a mare named Can Can Dyna. His name was TSW Can Can Vaquero.
We decided to keep the 'Can Can' in the names but in a slightly different way. So some of his foals include:
I Think I Can Can
I Can Can You
I Know I Can Can
Vaquero has eight foals that carry on his name. When the time comes to ride them my wish is that they will remind me of their dad….at least I hope they can can:)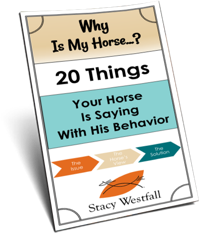 FREE PDF DOWNLOAD
WHY IS MY HORSE...?
No one taught you the skills you need to work through these things.
Riders often encounter self-doubt, fear, anxiety, frustration, and other challenging emotions at the barn. The emotions coursing through your body can add clarity, or can make your cues indistinguishable for your horse.
Learning these skills and begin communicating clearly with your horse.
Click here to learn more.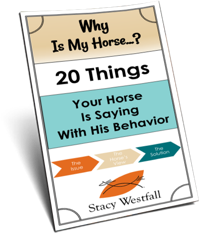 Free PDF Download "Why is my horse...20 things your horse is saying with his behavior"
PDF will be delivered to the email address you enter as will weekly tips from Stacy. Totally free. Unsubscribe anytime.