For over 30 years I have owned horses. For a good part of that time I have trained them as a profession. In that time I have not experienced the death of a horse often. My first horse, pony actually, was 16 when I got her. She died at 32 and it was not unexpected at her age.
Then I got off pretty easy until the last five months. Two years ago we did have a foal die. It was hard with such a young promising life but again I realized that with the number of horses I have owned, trained and loved I should be prepared for things like this.
But the last five months have been crushing. In December my first
horse, Bay, who again was 30 years old (so it was not sudden and unexpected) had to be put down.
And then in February, Roxy. I know I didn't own her but we did have a special relationship. It was sudden and shocking.
And now Vaquero. I walked into the vet clinic guessing I would not have a show horse anymore but also thinking he would easily be a pasture pet for the rest of his life. Now his stall is empty. Roxy wasn't here with me when she died. She had been at Greg's house for a couple of years so although I was shocked there was no empty stall.
There is an empty stall now.
Misty and Bay were old and it was expected and both were at my moms
house. Roxy was shocking and her stall was at Greg's.
If I didn't already have horses, like Popcorn, that I have a relationship with I don't think I would even go to the barn.
I know many of you out there know what I am talking about. I know others have felt this loss and had to look at the empty stall. That also tells me that you understand how hard the last 5 months have been. Thank you for supporting me and putting up with my sad blog posts:(
Thank you Maria for sharing this:
I'll lend you for a little while my grandest foal, He said.
for you to love while he's alive and mourn when he is dead.
It may be one or twenty years, or days or months, you see,
but will you, till I take him back, take care of him for me?
He'll bring his charms to gladden you, and should his stay be brief,
you'll have treasured memories as solace for your grief.
I cannot promise he will stay, since all from earth return,
but there are lessons taught on earth I want this foal to learn.
I've looked the wide world over in my search for teachers true.
And from the throngs that crowd life's lanes, with trust, I've chosen you.
Now will you give him total love, not think the labor vain,
nor hate me when I come here to take him back again?
I know you'll give him tenderness and love will bloom each day,
and for the happiness you've known, forever grateful stay
But should I come and call for him much sooner than you'd planned,
you'll brave the bitter grief that comes, and someday, understand.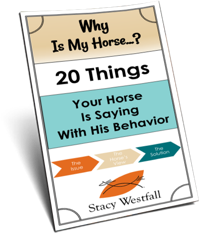 FREE PDF DOWNLOAD
WHY IS MY HORSE...?
No one taught you the skills you need to work through these things.
Riders often encounter self-doubt, fear, anxiety, frustration, and other challenging emotions at the barn. The emotions coursing through your body can add clarity, or can make your cues indistinguishable for your horse.
Learning these skills and begin communicating clearly with your horse.
Click here to learn more.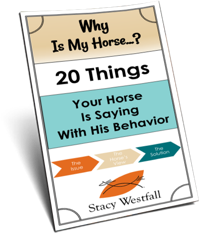 Free PDF Download "Why is my horse...20 things your horse is saying with his behavior"
PDF will be delivered to the email address you enter as will weekly tips from Stacy. Totally free. Unsubscribe anytime.