I have no doubt that I love my horses. I wish for them to be happy but to also reach their full potential. I desire this for them because it makes them more valuable in society which offers them the safety of a good home. I may not always be there to protect them but the training they carry with them will be.
But I doubt they always see me as loving. I'm sure at times they consider my ways 'hard and steep' as the verse below says. Though I can clearly see the plans I have for my horses, they cannot. They have to choose if they will believe me.
Some choose to follow me easily and others are a life long project. When God looks at me I wonder which he thinks I am?
______________________________________________________________________________________________
"When love beckons to you, follow him,

Though his ways are hard and steep.

And when his wings enfold you yield to him,

Though the sword hidden among his pinions may wound you.

And when he speaks to you believe him.

Though his voice may shatter your dreams as the north wind lays waste the garden.

For even as love crowns you so shall he crucify you. Even as he is for your growth so is he for your pruning. "

-Kahlil Gibran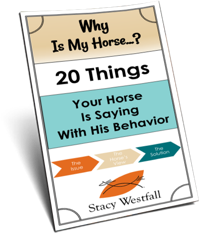 FREE PDF DOWNLOAD
WHY IS MY HORSE...?
No one taught you the skills you need to work through these things.
Riders often encounter self-doubt, fear, anxiety, frustration, and other challenging emotions at the barn. The emotions coursing through your body can add clarity, or can make your cues indistinguishable for your horse.
Learning these skills and begin communicating clearly with your horse.
Click here to learn more.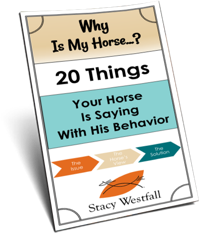 Free PDF Download "Why is my horse...20 things your horse is saying with his behavior"
PDF will be delivered to the email address you enter as will weekly tips from Stacy. Totally free. Unsubscribe anytime.