Horses do some of their sleeping while standing but they will also lie down for deeper sleep. When we trained horses full time and spent twelve hours a day or more in the barn the horses got pretty comfortable with us being around. This lead to seeing horses sleep…and dream. Too bad I hadn't thought to grab a video camera back then…but thankful other people have.
Check out this video of a mare while she is dreaming. The whinny at the beginning is cute but I think her dream took a turn for the worse around twenty-eight seconds…watch what she did then! I guess all horse dreams aren't pleasant.  I wonder what she was dreaming about…
This type of dreaming is what we mostly caught the horses doing in our barn. Apparently 'running' dreams are popular with horses. I have noticed this in dogs also!
Is there a cutest dreamer category? If there is…watch out for this little guy!
I had to put one dog 'running in sleep' video in here too…here is a link to a dog dreaming the way I have seen them.
And this is a crazy link to a dog who was REALLY dreaming. I've never seen this happen before and I hope it never happens to my horse or my dog. Ouch. That was one crazy dream:(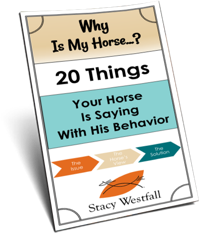 FREE PDF DOWNLOAD
WHY IS MY HORSE...?
No one taught you the skills you need to work through these things.
Riders often encounter self-doubt, fear, anxiety, frustration, and other challenging emotions at the barn. The emotions coursing through your body can add clarity, or can make your cues indistinguishable for your horse.
Learning these skills and begin communicating clearly with your horse.
Click here to learn more.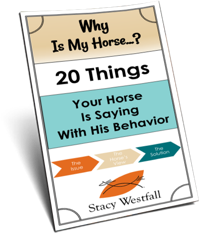 Free PDF Download "Why is my horse...20 things your horse is saying with his behavior"
PDF will be delivered to the email address you enter as will weekly tips from Stacy. Totally free. Unsubscribe anytime.