Happy 4th Birthday Presto!? I made this cake for you and invited some friends over for a party later?
#confession This is the first time I've cooked for any of my horses. I'm normally an apple and carrots kind of owner but…this was really kind of fun!
How do you celebrate with your animals?
Keep an eye out for the video of his birthday party later????
Directions:
Preheat oven to 350 degrees
5 cups quick oats (oatmeal)
1 cup flax meal
1 cup applesauce
3/4 cup molasses
2 shredded carrots
1 tsp cinnamon
Mix to moisten everything. If it seems a bit dry add more applesauce or water. (I added another 1/2 cup of each.)
Shape in pan. (I wish I had lined with parchment paper)
Bake for 25-30 minutes.
Cool on cooling rack until you can handle pan.
Remove from pan and finish cooling.
Decorate!
———–
I've owned Presto now for four years.
He has grown so much and I'm finally ready to start sharing his adventures.
What questions do you have for me?
#PressonRegardless #Presto #Equithrive
Pause
-1:55
Additional Visual Settings
Enter Watch And ScrollClick to enlarge Unmute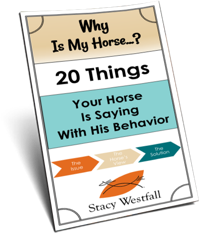 FREE PDF DOWNLOAD
WHY IS MY HORSE...?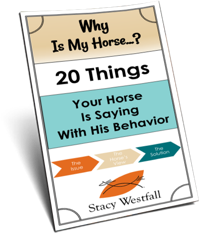 Free PDF Download "Why is my horse...20 things your horse is saying with his behavior"
PDF will be delivered to the email address you enter as will weekly tips from Stacy. Totally free. Unsubscribe anytime.