"Hi Stacy. How many horses in a day do you typically train? How many hours per day do you usually devote to each horse? Flo B."
Flo- Years ago my husband and I trained horses full time for a living. At that time we kept seventeen to twenty horses at our barn and had anywhere from one to three people that worked for us. Sometimes those people did maintenance, feeding and cleaning so that Jesse and I had more time to ride. At one point we had three young ladies working for us who fed, cleaned stalls and rode horses with us also.
We average an hour to an hour and a half per day when riding the horses. Sometimes it might be less if there is something especially good that happens and we want to reward them or if they are young but over the period of a year or two it still averages out.
Back when we trained full time at our peak Jesse and I rode ten a day but we had a girl who saddled, warmed them up and unsaddled.
Now I do more traveling and teaching at expos, etc. Traveling means that I can't train regularly unless the horses can travel with me. I am currently riding two horses, Jac and Newt, and sometimes Popcorn…and the mini's. Popcorn and the mini's are more like a hobby, lol.
I still average around an hour to an hour and a half per day, per horse, five days per week. That is how it becomes possible to see that Roxy had over 1,000 hours of training when I rode her bareback and bridleless as a 5 year old. She entered training as a two year old and the show was at the end of her five year old year. That would be about 250 hours per year as a 2, 3, 4 and 5 year old.
The video below shows Jac with 120-125 hours of training….his hours are lower because he got sore in the summer and had time off
This video shows Roxy with about 1,000 hours of training.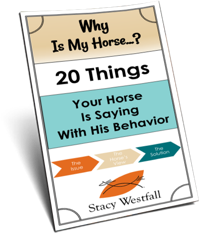 FREE PDF DOWNLOAD
WHY IS MY HORSE...?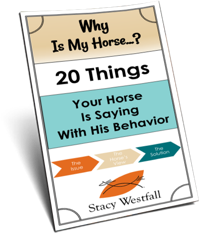 Free PDF Download "Why is my horse...20 things your horse is saying with his behavior"
PDF will be delivered to the email address you enter as will weekly tips from Stacy. Totally free. Unsubscribe anytime.