To have a student that excels is a pleasure….
About nine years ago Emmie Fisher wanted to learn about reining and a friend suggested that she try riding with Jesse and Stacy Westfall. Emmie began hauling her horse for lessons and was hooked. Emmie worked hard and when there was an opportunity to work for the Westfall's for a short time she also did that.
Emmie's hard work and dedication was put to the test when she decided to train her two year old horse herself. Some horses are easy and others are more challenging…and Louie was a challenge. But again Emmie worked hard.
Emmie was now married to Mike, worked full time and lived over an hour from the Westfall's but she didn't let that stand in her way. Emmie hauled in regularly taking lessons from Jesse as well as attending shows with him. She kept Louie at home most of the time where she trained him in her pasture as she had no riding arena. When Louie progressed enough Emmie and Mike budgeted and boarded Louie at a barn with an arena. And Emmie worked hard.
To say that we, Jesse and Stacy, are proud of what Emmie has accomplished with Louie would be an understatement. In April 2012 Emmie rode with Stacy at the Equine Affaire during a freestyle demo with the goal of showing that October at the All American Quarter Horse Congress Freestyle….with a bridle. Emmie and Louie placed fifth.
In 2011 Emmie started asking the Westfall's if she was crazy for considering bridleless freestyle reining and they said not at all. In 2013 Emmie showed at the Congress Freestyle again…this time BRIDLELESS this time placing third.
One of Emmie's life time goals has been to show at the Kentucky Horse park, a place she visited as a child and has always loved. In just a few short weeks Emmie will have her chance as she has entered Louie in the Kentucky Reining Cup Freestyle Reining, April 26, 2014, held in conjunction with the Rolex Kentucky Three-Day Event.
……but the story gets better.
To prepare for the Rolex 2014 Emmie once again rode with Stacy at the Equine Affaire. Stacy could offer Emmie practice in front of a crowd which was good but what Emmie really wanted was to practice with a spotlight.
That is when God opened the door.
Unfortunately the reiner scheduled to perform in the Fantasia couldn't perform. Equine Affaire approached Stacy and asked her if she knew anyone who could fill in….the answer was yes!
Emmie got her chance to practice with a spotlight not once, not twice but four times…three of them with thousands of people cheering. I think her Facebook post after the first performance summarizes it best:
"19 years ago a lady from church took a horse crazy little girl to see Fantasia at the Equine Affaire. Tonight that horse crazy girl rode her own horse in Fantasia. #ThankYouJesus #DreamsDOComeTrue #LouisIsMyBFF"
She is a non-pro who works full time at a vet clinic and has trained her own horse. Her husband Mike said after her last Fantasia performance, "No one would believe how hard Emmie has worked to reach this goal."
Emmie worked hard, rode with Faith, and then worked even harder. She will tell you if you talk with her that if she can do it, you can do it. You can visit her on Facebook at The Redheaded Cowgirl.
We are all so proud of you Emmie!
And yes…this is the same "Louie" as Louie the blogging horse from Congress, lol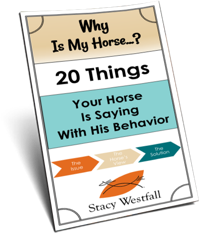 FREE PDF DOWNLOAD
WHY IS MY HORSE...?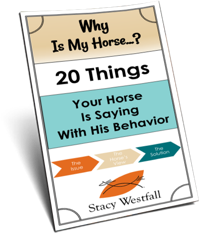 Free PDF Download "Why is my horse...20 things your horse is saying with his behavior"
PDF will be delivered to the email address you enter as will weekly tips from Stacy. Totally free. Unsubscribe anytime.