My loving husband, seeing this coming, conspired with my brother in Maine. My brother was able to get tail hair from Bay without my Mom knowing and mailed it to Lisa at 'Crazy4PonyTails' . My husband talked with Lisa and picked out the pendant and the crystals. I wish the photo showed the detail better but the cell phone isn't cooperating. Thanks again to my hubbie and bro…
It sounds like many of you have lost well loved horses. My condolences. How did you chose to remember? Was it with photos, a lock of hair, a piece of tack or that favorite memory in your head? What would you recommend?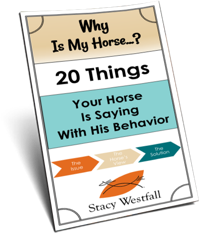 FREE PDF DOWNLOAD
WHY IS MY HORSE...?
No one taught you the skills you need to work through these things.
Riders often encounter self-doubt, fear, anxiety, frustration, and other challenging emotions at the barn. The emotions coursing through your body can add clarity, or can make your cues indistinguishable for your horse.
Learning these skills and begin communicating clearly with your horse.
Click here to learn more.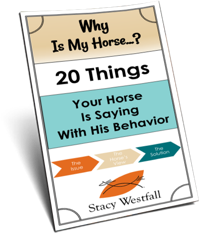 Free PDF Download "Why is my horse...20 things your horse is saying with his behavior"
PDF will be delivered to the email address you enter as will weekly tips from Stacy. Totally free. Unsubscribe anytime.