One thing I miss about having a home and a barn is my flower gardens so I was excited to see this garden near a friends barn. It doesn't hurt that one of these flowers was special enough to be used in my wedding bouquet.
I know some people keep the grass clean cut and others plant flowers, some add old wagons, cowboy boots as flower planters or build special seating areas.
How do you decorate around your barn? Feel free to post photos also!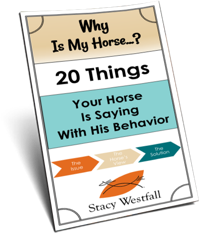 FREE PDF DOWNLOAD
WHY IS MY HORSE...?
Free PDF Download "Where is my horse...?"
20 things your horse is saying with his behavior.