I went to an equine college and on really cold days we tried to make an argument that it was too cold to ride.
We were told by the learned scholars and the riding instructors: It will be too cold for you before it is too cold for your horse.
The two main issues people worry about in the cold are hurting the horses lungs and getting them sweaty.
The scholars informed us that horses have an incredibly long air passage; the air passes through the nostril to throat latch and then down the long neck, which allows the air to warm before reaching the lungs.
The riding instructors taught us to use coolers on the horses; a blanket type set up with moisture wicking properties i.e. wool or wicking synthetic, to both keep them warm and speed in drying them out to prevent chilling.
Coolers are amazing. In the photo the cooler isn't dirty…the white dusty look is caused by the moisture rising up and sitting on top of the cooler instead of on him.
While googling for info I found a great article on Discoverhorses.com quoting Dr. Joyce Harman, "There is no temperature where it is too cold for a horse to be ridden or to go outside if they are adapted to it."
Now as for me, I need to go thaw my toes…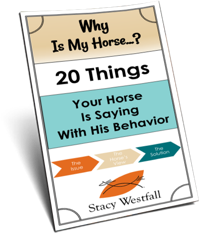 FREE PDF DOWNLOAD
WHY IS MY HORSE...?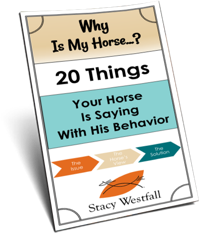 Free PDF Download "Why is my horse...20 things your horse is saying with his behavior"
PDF will be delivered to the email address you enter as will weekly tips from Stacy. Totally free. Unsubscribe anytime.