There are many ways you can improve your horsemanship, one of them is by increasing the number of horses you work with. While this might seem like a great excuse for buying more horses…the reality is that you can often find ways to interact with horses without owning them. When my mom was young she didn't own a horse. As a teen she would knock on doors and ask anyone with horse standing around in the pasture, "Could I ride your horse?" While this might not be the best idea for everyone, it worked for my mom.
I am adopting that same idea during this part of our trip. My horses aren't with me but there are horses everywhere. We left our horses three days ago and I've still managed to be with horses every day. Our first stop was the Weaver Leather Pop-Up clinic in New York where I demonstrated groundwork techniques for an hour and a half before answering questions. That little mare was fun because by the end of the demo it was easy to see her figuring things out.
Our next stop was Miracle Mountain Ranch where two of our kids spent the last week in training. As a bonus I was able to visit with Popcorn and the mini's.  You may remember my post and video about the mini's finding their true calling. I'm happy to see that they are still doing well. Last night they received baths and this morning, after taking a few pictures with me, they were loaded onto a trailer to go participate in a parade. The folks at MMR offered to let me drive them in the parade but my mom is anxiously awaiting our arrival in Maine, so I postponed the offer until next time.
Popcorn has also been hanging out at MMR as part of the 'staff'. I still own him but I can also see his value as a teacher in his own right. A well trained horse is a great teacher to learn from so when we hit the road last year in the motor home I offered to loan him to MMR for use in their program. Yesterday I had several students approach me and say that they enjoyed riding Popcorn and learning from him. It makes me happy to know that Popcorn is in a win-win situation where he is enjoying his life and the students are enjoying him.
As for me, I have faith that I will find horses along our way as we travel. I am especially looking forward to seeing the horses that show up at the clinics in Germany in July. Although there may be a slight language barrier with the people, I am confident that the horses will speak my language.
Check out Stacy's full line of DVD's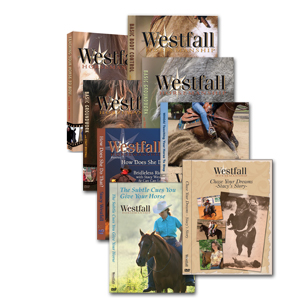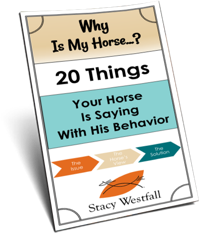 FREE PDF DOWNLOAD
WHY IS MY HORSE...?
No one taught you the skills you need to work through these things.
Riders often encounter self-doubt, fear, anxiety, frustration, and other challenging emotions at the barn. The emotions coursing through your body can add clarity, or can make your cues indistinguishable for your horse.
Learning these skills and begin communicating clearly with your horse.
Click here to learn more.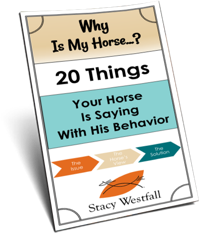 Free PDF Download "Why is my horse...20 things your horse is saying with his behavior"
PDF will be delivered to the email address you enter as will weekly tips from Stacy. Totally free. Unsubscribe anytime.